So this just came over the wire a few minutes ago.  Doppler radar confirms that a mass of ear steam has been spotted in the vicinity of #1000SSS.  Read on:
Michigan-Notre Dame Series Cancelled from 2015-17

ANN ARBOR, Mich. — The University of Michigan Athletic Department announced today (Sept. 25) that the series with Notre Dame has been cancelled for the 2015, 2016 and 2017 football seasons. The Irish informed Michigan Athletic Director Dave Brandon prior to kickoff of the match-up Saturday in South Bend.

"The decision to cancel games in 2015-17 was Notre Dame's and not ours," said Brandon, the Donald R. Shepherd Director of Athletics. "We value our annual rivalry with Notre Dame but will have to see what the future holds for any continuation of the series. This cancellation presents new scheduling opportunities for our program and provides a chance to create some new rivalries."

The Wolverines and Irish have met on the gridiron 40 times, the most for Michigan against any non-conference opponent. One of the schools three main rivals along with Michigan State and Ohio State, the Wolverines hold a 23-16-1 all-time record against the Irish.

The final two games in the rivalry will take place on Sept. 7, 2013, at Michigan Stadium, and the following year on Sept. 6, 2014, at Notre Dame Stadium. Both schools agreed to a break in the series during the 2018 and 2019 seasons. The future of games scheduled to be played in 2020 and beyond has yet to be determined.

Fans interested in 2013 football ticket opportunities, can join the interest list: http://support.mgoblue.com/annual-giving/football-ticket-interest-list/
Go ahead and read between the lines but from the what we know about our athletic director, I'm guessing he doesn't like to be "informed" of anything like this, let alone "prior to kickoff".   Informed implies he wasn't asked his opinion, and the timing implies it was treated somewhat casually. 
Holy moly.   I read, "..will have to see what the future holds for any continuation of the series" as "smell you later, Irish."
I mention 1910 in the headline because there are some parallels.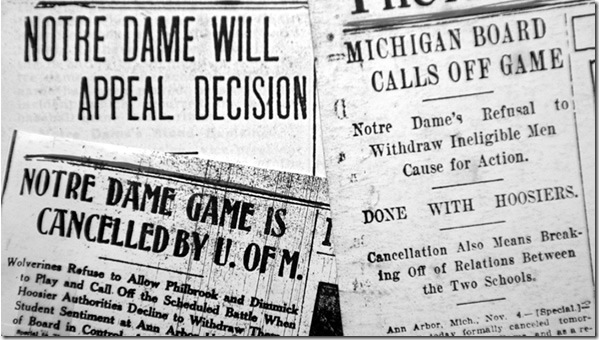 The 1910 tilt was cancelled just before the scheduled game due to a dispute between the schools over eligibility of certain Irish players.  Kryk breaks it down here for you in Kryk fashion (superb – read more in Natural Enemies).    The bitterness that stemmed from the 1910 hubbub resulted in the teams not playing again until 1942.
Reading between the lines in the tone of this release, I wouldn't be surprised if we see some form of scheduling retaliation, beyond football, coming from #1000SSS.   Maybe DB will also ring up his golfing buddy and ask him to join in the fun.
I guess we'll never get to see my mock up of the 2031 ticket stub come to fruition – damn: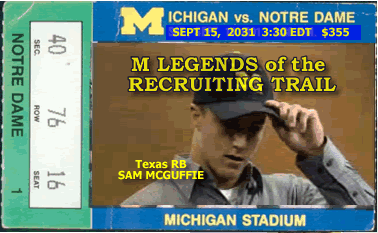 More on 1910 here: Yost Gets a Dog to Get Shorty's Goat (1910)
Follow MVictors on Twitter