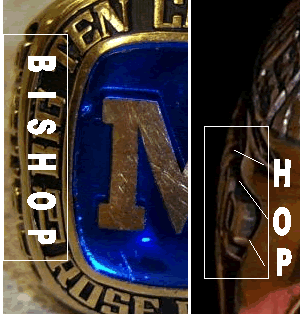 Another follow-up to my May 20th eBay Watch post on the 1986 Rose Bowl ring, and the follow-up post that uncovered the likely original owner.
Proving once again that while the Michigan football family is vast, it's a tight group and word gets around pretty quick, here you go:
* I was contacted by member of the 1985-6 Wolverines. He called Allen Bishop and they eventually got on a three way call with Garland Rivers and talked about my post, the ring and lord knows what else.
* He confirmed that this was Bishop's ring but the circumstances of how it ended up out of Bishop's possession and eventually on eBay were not disclosed.
* I was informed that former players and coaches can actually order replacement rings from Jostens as all the original specs are on file.
A few takeaways here:
– I respect Bishop for not wanting to get into details on how the ring ended up on eBay. The possibilities are endless and I know that many players give their rings to family/friends especially if they have rings from other seasons. All in all it's really none of anyone's business but Bishop's as to how it may have got here and if he doesn't want to disclose that's cool.
– I'm going to send Coach McCartney's wife a note letting her know they can replace his 1980/1 ring which was featured here last year.
– As these rings are becoming kind of a subplot here on MVictors.com, I may change my posting name from Webmaster to 'Ring Boy', although one of my buddies at U-M coincidentally carries that nickname.
The eBay bidding on Bishop's ring closes this weekend, you can see the auction here.
UPDATE 6/8: It sold this afternoon for a cool $2,477.