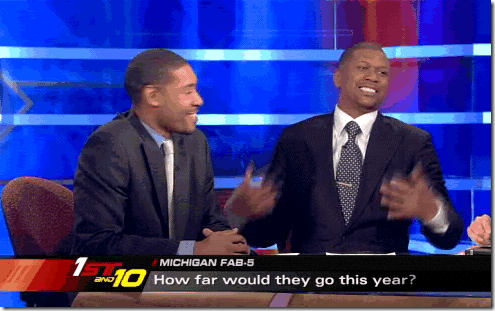 (HT: Justin at MLive)  Check out this brief exchange with Fab Fivers Jimmy King and Jalen Rose, in studio on ESPN's First Take from yesterday.  How would the 1992 all Freshman version fare against John Wall and Kentucky?   No doubt, boo, no doubt!
I love that Jalen refused to stop his preamble about the aura of the Fab 5 despite Skip Bayless repeatedly cutting in. 
Sidenote:  Word on the street is that Jimmy King will be at the Jim Rome appearance at Northville Downs this Friday afternoon and is trying to drag a few other Fab 5'ers with him – nice!
Sidenote #2: Speaking of Michigan-Kentucky, memories of when Jalen and crew were sophomores naturally focus on the 1993 Final Four and the Webber timeout.  Lost in that is the incredible semi-final game on Saturday against Jamal Mashburn and the Wildcats.  It was unbelievable.  I was there about 20 rows behind the bench and it remains one of the best games I've seen.