[UPDATE 7/14 – Friend of blog Craig Ross contacted Loeffler, details here.]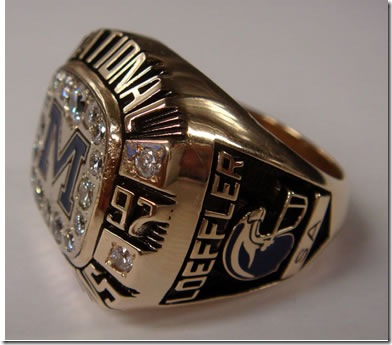 Wow, a '97 Michigan championship ring, after an earlier auction of a '97 band fell through, is up on eBay.  And the seller claims the original owner of this ring was former Michigan assistant coach Scot Loeffler.   I believe he was a grad assistant on the '97 squad and squeaked into the team photo: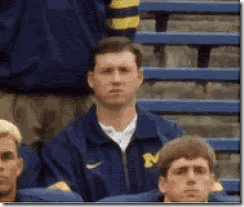 It's Scot with one 't', eBay and Bentley!
Per the auction description:
YOU ARE BIDDING ON A MICHIGAN WOLVERINES NATIONAL CHAMPIONSHIP PLAYERS RING

1997 ROSE BOWL RING

ENGRAVED INSIDE SCOTT LOEFFLER

MICHIGAN WOLVERINES
Loeffler went on to be quarterback coach for Coach Carr, then over to the Detroit Lions when Rodriguez came in, and is currently on Urban Meyer's staff in Gainesville.
Scot, you can leave town, play for Urban Meyer Wiener, and even try to steal our recruits but… don't sell your 1997 Championship ring!!
My only question about this (beyond getting Loeffler to comment and I emailed him).  The ring is truly engraved "SCOTT" with two "t's".   If so, just maybe  the ring was misengraved and he was issued a corrected ring – and somehow this one ended up in the hands of a dealer.  Doubt it, because this seems easily corrected: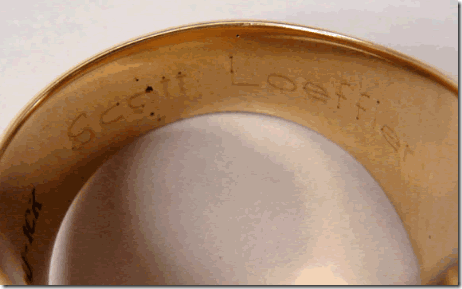 The auction of Loeffler's ring ends July 19.  Bidding currently at $1,592.