That same old maize envelope arrived again today – football season tickets have arrived.   This year the artwork on the ducats honors a Michigan player (or coach, in the case of Moeller) and his team.   According to the official press release:
For the Wisterts, Ford, Kramer, Oosterbaan and Harmon, the ticket artwork is the official team photo from their senior or final season at U-M, while Team 115, Moeller's 1992 Big Ten and Rose Bowl Championship team, also will be recognized.
One issue here..and why I added the emphasis above.  Team 115 is actually the 1994 squad, not the 1992 team.   1994 was not one Moeller's finest, finishing 8-4 and his last at the helm.    If counting at home, remember U-M didn't play a game in 1882, so Team 4 played in 1883 and so on.  You can just subtract 1879 from the season to determine the Team #, (e.g., 2012-1879 = 133). The photo on the ticket is also the 1994 team so that's good.  Perhaps the athletic department changed gears on how they wanted to honor Moeller.   (Ed. And HT to @griffinhickman note that the athletic department removed the mention of the 1992 team from the online version of the release).
The others look correct – they are the senior season of the player identified.   Here's a breakdown: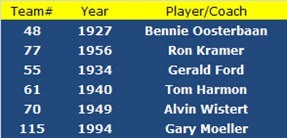 The open question is what they will do with Old 98.  The families of the other players have ok'd the athletic department to re-issue the jerseys and enter the Legends programs.  Maybe we'll hear from Mr. Shoop once summer school adjourns about whether Tom Harmon will officially join the program?
Here's a look at the tickets:

Here's the official release from the athletic department:
U-M to Recognize Wisterts, Former U-M Football Greats and Teams in 2012

ANN ARBOR, Mich. — The University of Michigan Athletic Department will recognize three additional former football greats during the 2012 season — tackles Francis, Albert and Alvin Wistert — with the "Michigan Football Legend" distinction, announced today (Friday, August 3) by Dave Brandon, the Donald R. Shepherd Director of Athletics. With the support of the Wistert family, the No. 11 jersey, worn by all three Wisterts, will return as a "Michigan Football Legend" number this fall.

The U-M Athletic Department previously announced in June that the famed No. 47, No. 48 and No. 87 jerseys would return as "Michigan Football Legend" jerseys in honor of center Gerald Ford and ends Ron Kramer and Bennie Oosterbaan, respectively. The Wisterts, Ford, Kramer and Oosterbaan will be honored in perpetuity with their names always affixed to their respective jersey numbers with a patch over the left upper chest of all future players donning the jersey numbers. The football staff has not determined which current players will wear the jerseys honoring the former legends.

Desmond Howard was the inaugural Michigan Football Legend, honored last year during the first night game in Michigan Stadium history. Howard's No. 21 jersey will be worn by senior wide receiver Roy Roundtree (Trotwood, Ohio/Trotwood-Madison) in 2012.

The Wisterts, Ford, Kramer and Oosterbaan, along with former Heisman Trophy winner Tom Harmon and former U-M head football coach Gary Moeller, are being honored throughout the season across marketing collateral. As the 2012 season marks the 133rd season in Michigan football history, the "Team" concept will be carried throughout the season.

Tickets to each game at the Big House in 2012 will feature one of the six former playing or coaching greats and their teams. For the Wisterts, Ford, Kramer, Oosterbaan and Harmon, the ticket artwork is the official team photo from their senior or final season at U-M, while Team 115, Moeller's 1992 Big Ten and Rose Bowl Championship team, also will be recognized.

Additionally, U-M's football schedule poster, die-cut in the shape of 133, will include the official team photos of Team 1 through Team 132 as the background artwork.

Following is the home football schedule for 2012 and the Team that will be represented on each ticket. Below also reflects the tentative dates and contests in which the No. 11, 47, 48 and 87 jerseys will be worn by a current Wolverine player and therefore officially honored as a "Michigan Football Legend" number.

Sept. 8 – Air Force (No. 47 Bennie Oosterbaan, Team 48)

Sept. 15 – Massachusetts (No. 87 Ron Kramer, Team 77)

Oct. 13 – Illinois (No. 48 Gerald Ford, Team 55)

Oct. 20 – Michigan State (Tom Harmon, Team 61)

Nov. 10 – Northwestern (No. 11 Alvin Wistert, Team 70)

Nov. 17 – Iowa (Gary Moeller, Team 115)
Follow MVictors on Twitter