Enhancing the analysis of the true origins of the Little Brown Jug rivalry, I add this nugget.   We know that in the aftermath of the 1903 brutal battle with Minnesota, Michigan left a water jug behind and after a series of events a college football tradition was born.  
As discussed in much detail here, the common contention that Fielding Yost requested that Minnesota athletic director Louis "Doc'" Cooke return the Wolverine water jug (and was told he'd have to "win it back") never happened.
One more data point to throw into the analysis.  The Detroit Free Press reported on November 4, 1903 that Michigan's share of the game revenue from the game was $13,000: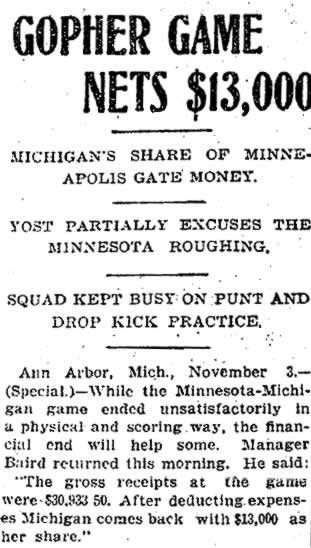 While the thought that Yost would wire Minnesota demanding that a 30 cent jug, purchased a day or so before the game, be returned to Ann Arbor is far-fetched on many levels, consider that the athletic department could have replaced that precious water receptacle more than 40,000 times over merely with the revenue share from the game (and saved on the postage/shipping costs back to Ann Arbor :) ).
At best you might argue that Yost could have sent such a request as a turn-of-the-century-style "bite me" to Cooke after the brutal 6-6 game, but there's nothing that backs that up.  On the contrary, there's plenty of evidence suggesting that the rivalry was simply created in the days prior to the 1909 game.  Read up.
Related:  
Speaking of 1903, check out this pin that surfaced on eBay.  I've never seen it before and I'm guessing it's unofficial/unlicensed but I like it.  It's got 1903, the 6-6 score, the logos and a nice looking (inaccurate but cool) representation of the jug: