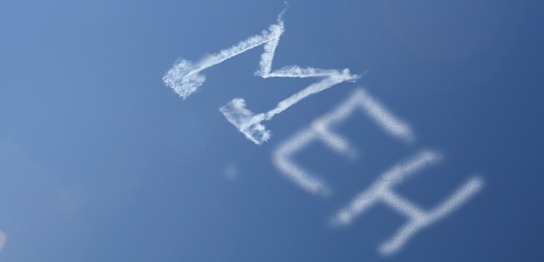 Bright sides:  I'm glad it was a perfect day out there.  I was happy to see Treezy get in the endzone (so we he obviously), Gardner looks like he's getting better including his blocking, and the legend of D Funch took another step forward.  
My biggest concern: Beyond Denard's inconsistency tossing the ball, Fitz couldn't seem to get many yards with the play that was called—he had to bounce it outside often to create space.  That's not This-is-Michigan-Fergodsakes football, fergodsakes. The D-line is still a big question mark.
Elsewhere:
* Ron Kramer:  #1000SSS did a nice job once again on the Legends ceremony and the #87 hype video was well done.  I got to meet a few of the family members before the game including Ron Kramer's granddaughter Kelsey who was rocking #87's ring as promised: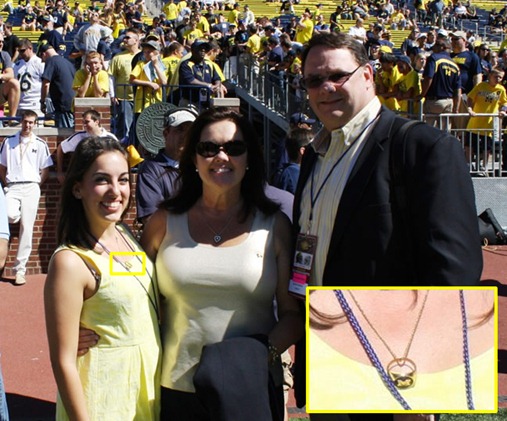 L-R Ron Kramer's granddaughter Kelsey, daughter in law Dawn, son Kurt
One disappointment of course was that, unlike Jake Ryan and the #47, we didn't get a chance to see the #87 on the field as TE Brandon Moore was dinged up.  I'm not sure what could have been done about that.
* Good sign. The game was effectively over UMass squad gathered at midfield prior to suiting up and formed the Radish of Rage (formerly known as the Turnip of Terror):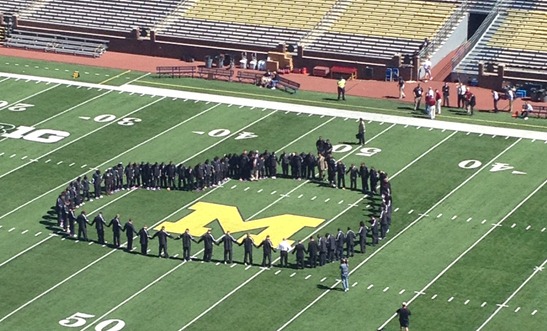 * Tay Peeps: Former U-M defensive stud Shonte' Peoples spent some time in the WTKA Bud Light Victors Lounge: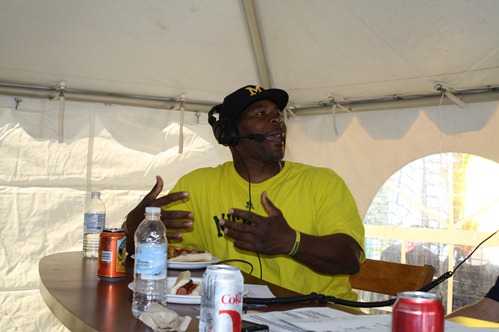 Peoples and George Washington will not tell lies.  After warning Sam and Ira that had to be honest, Tay basically revealed that he doesn't like where this team is at (at least today) and he thinks we're doomed when Michigan State comes to town on Oct 20th.  Tay is not alone, although I think folks softened up on their fear of MSU after last night's game. 
What do you think:
Loading ...
* Old 98?:  Speaking of Legends and #1000SSS…while Tom Harmon is listed on the game tickets to be honored October 20th before the Michigan State game there has been no announcement of any formal plan to honor the 1940 Heisman Trophy winner.   My understanding is that it's not dead yet and U-M is still trying to talk to the family.  Stay tuned.  
My ask: if we don't honor Harmon, how about honoring Willis Ward on that day, the 78th anniversary of the fateful Georgia Tech game?
(P.S. do you remember the last time Harmon was featured on a Michigan football ticket?  Avert your eyes!).
* Tweet of the day:

* Cheers for the Kid.  The biggest ovation of the day was reserved not for Denard, and not for Ron Kramer, or even U-M Hall of Honor Inductee Rob Lytle…it was for Cooper Barton, the kid from Okla..oh jeez you know the story.   It's unclear whether #1000SSS tossed in $5 for a trip to SuperCuts for Coop. 
The media got to meet the little Lord Fauntleroy at halftime resulting in a press box frenzy not seen since they rolled out the cake for Wojo's 50th birthday: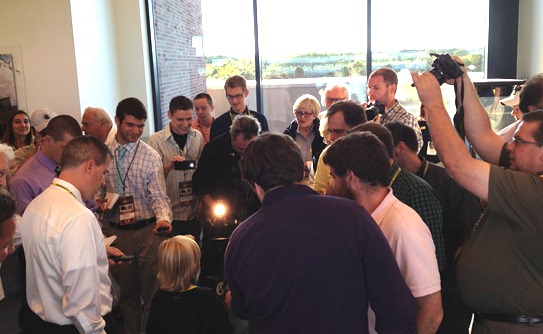 Elsewhere:  Photos from Brad at MBN, Pics from Dell and Phil at UMGoBlue.com, Shots from mgoblog, and mgo-recap with a sweet shot of Honey Funchess of Oats.
Related:
Follow MVictors on Twitter