So word is out that the helmet decals will return and the Legends program will be modified in some manner, starting with the patch on the jersey. Bacs: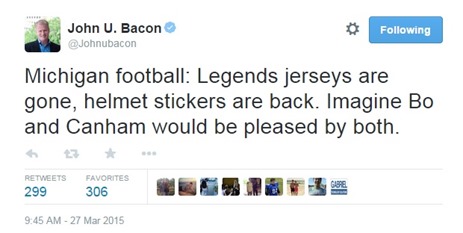 Regarding the helmet stickers: I'm not surprised (my spies confirmed a lot of chatter weeks ago) and you can imagine that I'm pretty jacked up and looking forward to the decal reveal. I'd prefer a replica or close variation of the Bo-era decals, but I'd go with a block M or whatever. I know Dr. Sap has a few ideas that we'll reveal down the road. Heck, I'd even go with this design if it would mean cheaper tickets & Twizzler prices: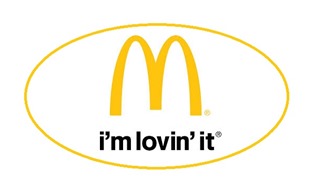 On the Legends jerseys, I'll start with Bacon's tweet. I think he's probably right that Canham or Bo wouldn't have been crazy about the concept, but I wonder if they would be ok with unwinding this (at least the jersey portion) after it was already unveiled.
I need more info on what exactly happening here, but I really like the Legends program including the patch on the jersey. Whether you like the aesthetics of the patch or not, what this concept did was bring these great players to the forefront and got people (people other than yrs truly) talking about them again. Dave Brandon had to sell the families of those who had previously retired jersey numbers to bring them back on the field, so now what?

(Bennie McCready & Jake Ryan | Ox Wistert | Mark Harmon)
I know that the athletic department has at least tried to reach out to certain family members of Legends recently I assume to, ahem, talk this through.
I think the biggest problem with the Legends program is that it became a burden on the coaching staff to dole out these jerseys to the "right" player and they felt obligated to include the families as much as possible. It was probably easier to not bother. My take, and what I'd sell to the families—just let the coach decide who gets the jersey and leave it at that. To Desmond, the only living Legend, I'd say the same thing – don't worry about whether the player "earned" the right to wear #21, just let the coaches assign the number and that's that. It should be an honor to Desmond that his name is on any jersey on the sideline. This bureaucratic burden was why RichRod buried the #1 jersey.
So, before I blast away any further I'll chill until I hear more. My questions — Do the special Legends lockers in the stadium go away? Does the section of the Towsley museum carved out for the Legends vanish? Of course the biggest question – do the previously retired jerseys go back in the vault?
No matter what, looks like we'll have some interesting tweaks to the Uniform Timeline this fall.
Follow MVictors on Twitter