[Ed. Bonus Giveaway Time!  Thanks to the folks at Rivalry Trophy.  If you retweet this tweet or like this post on Facebook between today and Monday, I'll pick one at random and send you a free mini-Little Brown Jug]: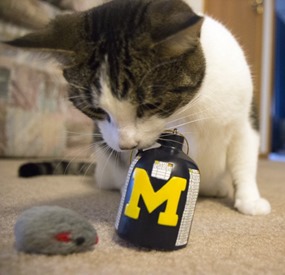 Without further ado, Is your better half stuck on what to get you for the holidays?  Wondering what to get your Michigan-obsessed cousin?   This is the best of the best of the stuff you should be considering – so read on, send and share.  Some cool stuff this year:
Rivalry Trophy features a must-have with their Little Brown Jug replicas.  Since it is home in Ann Arbor for while now you must have one in your M shrine or certainly, minimum, on your Christmas tree.  That's coming straight from the universe's leading Jugologist.  Available in ornament/dashboard, mid-size (around a foot) and full size.   They also have bundles with ugly Paul Bunyan.   Dig it: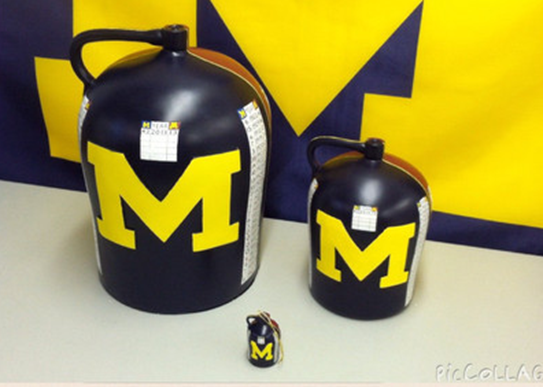 You know that UGP and Moe's support many of the sites you love.  Support these guys!
My favorites – I just ordered the THE TEAMx3 Bo mug, will be picking up the Everitt Rules shirt later today (Black Friday) and you can't lose with the Harbaugh sideline shirt:
There a several books that came out this year that must be on the shelf of serious Michigan fans.  Most reading this site already have John U. Bacon's ENDZONE which is fantastic.  I highly recommend John Kryk's STAGG vs. YOST – you will not regret it.  If you appreciate history of college football and in particular, Michigan football history, there's no one who tells the story, reveals fascinating historical nuggets and makes the whole ride entertaining like Kryk:
Other books include:  Jon Falk's excellent 'Forty Years in the Big House', Ken Magee and Jon Stevens' well done, 'The Game: The Michigan Ohio State Rivalry'.  And this is New!  Wolverine – A Photographic History of Michigan Football.  I haven't read this yet but I saw some early images they used for the project and it looks fantastic.
Finally, you can never go wrong with the creations of my gal Jil Gordon.  She paints the score on the Little Brown Jug when the good guys win, and she has a line of very nice products including the M Vase and tailgate carrying case: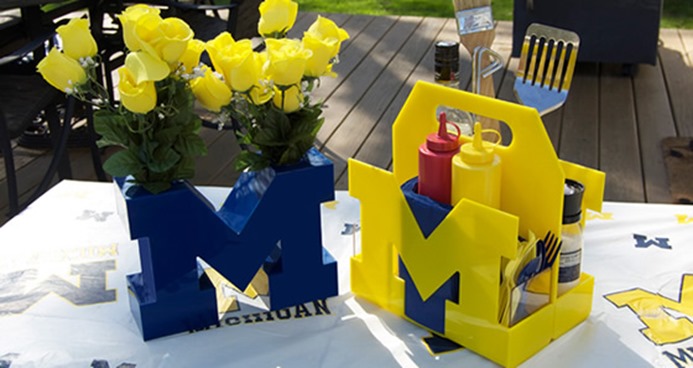 Go Blue!