I saw that coming but that didn't make watching it any easier. I called it 31-16 in a contest to score one of Bennie McCready's awesome Michigan football prints on The Fort…Bennie tells me I took second out of over 400 responses. Weee for me.
The team played hard and the defense made hits. All that will be remembered is that we couldn't handle the heat and took a brutal beating. Maybe it was the green uniforms against the field, but at times I swear there were a baker's dozen Spartans in the box. It felt like 4th and 48 more than the one time it was really 4th and 48.
What's next? Another Come to Jesus meeting? JC is Platinum on Delta by now. That'd be #4 in 2013 according to my unofficial count. Feels like splitting the next 4 games would be a great result.
Mood > Battered: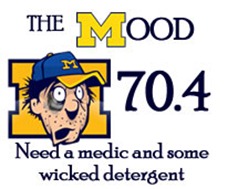 That's 98% The Blockhams, and 2% MVictors (black eye). That's a cheerful trend: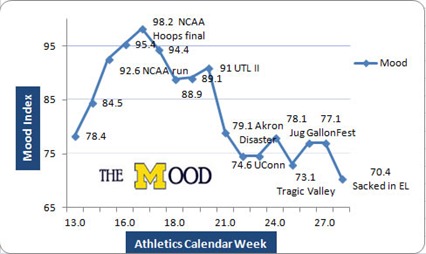 Uniforms > Nothing of note beyond Dr. Sap's concern about the helmets in low light. Clear now that LHS will remain through the season. Uniform Timeline here for your reference.
Bruce Gets a Paul > One Michigan Man took home a Paul Bunyan Trophy and that's longtime #1000SSS media man Bruce Madej who was honored by the MSU athletic department for his service. Bruce received a replica Paul, an announcement in the press box, and a hearty handshake from Spartan PR man big John Lewandowski (right):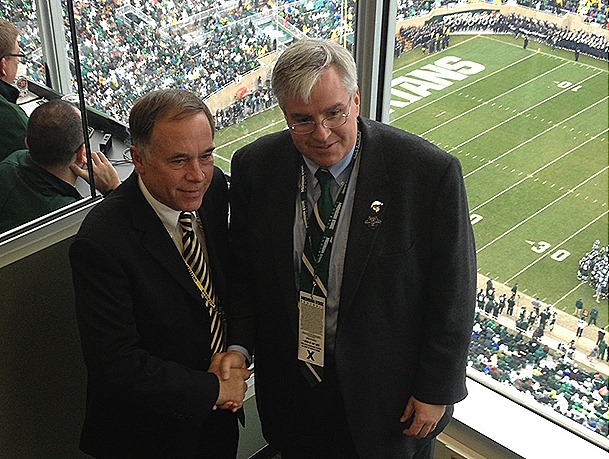 Calendar > A packed day on the Michigan History Calendar on today, November 3:

Now we can get this thing moving!
Notables > from the game notes:
Michigan State reclaimed the Paul Bunyan Trophy with today's victory. Despite the loss, Michigan holds a 35-33-2 record when the two rivals play for the Bunyan Trophy.
Senior kicker Brendan Gibbons converted a 39-yard field goal that banked off the right upright and through to tie the score at 6-6 with 3:22 remaining in the first half. He is now tied with J.D. Carlson (1989-91) for fourth on the all-time FG made list at U-M with 39.
Elsewhere:
It takes a special kind of failure to achieve such [see rushing #s] lows: complete, utter failure from top to bottom. The gameplan from Al Borges lacked coherence, an issue that's plagued him during his entire tenure at Michigan. The play-action from under center isn't fooling anyone and still gets brought out several times a game, yet the shotgun runs somehow lack any sort of constraint or misdirection. A piecemeal offense isn't going to beat MSU's defense.
That's all for now. Follow MVictors on Twitter !