In the latest edition of the U-M's school of Literature, Science and Arts Magazine, John U. Bacon wrote a very cool piece looking into the great traditions around Michigan football.  I even contributed a few quotes to the section on the Little Brown Jug.  You can check it out online here; LSA graduates should already have their glossy copy at home.
Included is some pretty cool history talking about the history of the famed 'M Club' banner, check it out: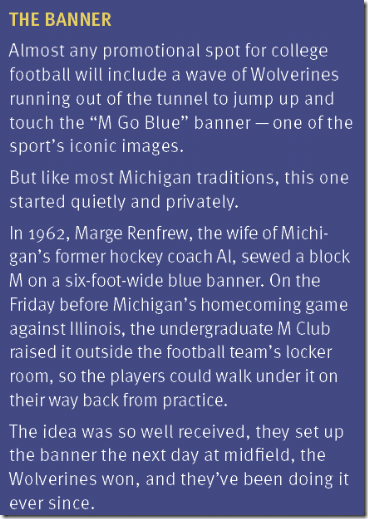 from LS&A Magazine, Fall '09 (John U. Bacon)
One other line from Bacon I loved.  While recapping the origins of The Victors, Bacs drops this great line:
One overlooked aspect of "The Victors" separates it from all others: While other schools' songs urge their teams to make a great effort in the hopes of winning, "The Victors" celebrates a crucial contest already won.
Very cool. 
Check out the whole piece here.