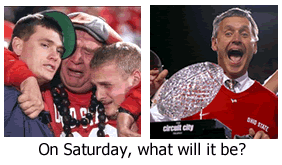 Continuing the tradition of finding a source behind enemy lines to break down the opponent and the game. This week you are graced with the takes of Schlimmy, a bonafide BuckNut who frequents the Shoe and even made it to the BCS Championship last year (see his game summary here). Enjoy Schlim's take on the Big one:
Well the game lost a bit of its luster over the weekend as we were hoping for/anticipating a potential top ten battle, but we will simply have to settle for the Big Ten Title and a Rose Bowl berth (just as Bo and Woody would have liked it).
From an Ohio State perspective my biggest fears are
1) A potential hangover from the Illinois game, knowing you had everything in you "control" in terms of a National Title berth. I wonder how well they will rebound from that.
2) Michigan has been waiting for the game ever since they lost last year's classic. I think they've had the mindset this year, especially after their first two games, that the Ohio State game will be the determining factor if their season is a success or not.
On to what I think will happen during the game, first off I'm sure both defenses are counting their blessings that they don't have to face a spread offense and I don't anticipate another shootout like we had last year in the Shoe.
When Michigan has the ball: I expect Hart to play and play a lot (Michigan obviously saved him for this game) eventhough the Buckeyes have one of the better run defenses in the country I see Hart rushing for 125 yards or so. I think the real key for Michigan's offense is if they can throw the ball effectively, if Mannigham keeps on the roll he's currently on then Michigan will be hard to beat.
When the Buckeyes have the ball: It will be typical Tressel-ball: fairly conservative but unlike past years they will take several chances deep. Even if they don't connect it'll at least keep the Wolverine defense honest and could open up the running and short passing game. I anticipate Beanie Wells to get his most carries of the year assuming his thumb injury is not too serious. Wells is one of those backs that seems to get stronger the more carries he gets, so if I'm Tressel I keep giving him the rock. Eventually he will wear down the D and break a big one.
Special Teams: Always hard to predict but usually have a huge outcome on the game. For some reason Ohio State is LAST in the country in kickoff returns. I think both teams have above average kickers/punters but I don't see any distinct advantage either way. Don't be surprised if you see either team try some things on special teams (e.g., fake punt, fake field goal, reverse on kickoff/punt etc.)
Coaching: It would be easy to say Tressel has the advantage over Carr given the 5-1 head-to head advantage. Tressel's most important coaching won't happen during the game but Monday through Friday as he gets the Bucks to forget Illinois and to instead focus on what's a stake on Saturday. Hopefully both teams can get last weekend out of their system and bring their A game.
Prediction: So with all of that being said I will turn back the clock to right before the season began, Michigan ranked #4, Ohio State ranked #11. If you would have asked me before the year who I though would win this game I would have said Michigan (FYI- Michigan was a 7 point favorite BEFORE the season started).
I know much has happened over the past few months, win/losses, injuries etc….but I can't dismiss why Henne, Hart, and Long came back for this year. It was to not end their Michigan career winless against the Buckeyes. In the end the Hart/Henne factor, having the game is in Ann Arbor, and all the uncertaintly around how the Buckeyes will respond to the Illinois loss…. my prediction which I hope is wrong:
Michigan 27, Ohio State 20.