Up on eBay right now, check this out.   A family found this 50 Belgian Franc bill in their father's possession after he passed away in 1998.  The man served in Africa in WWII and like many soldiers, kept a few relics from his days abroad.  It makes it on this site due to the inscription around the perimeter: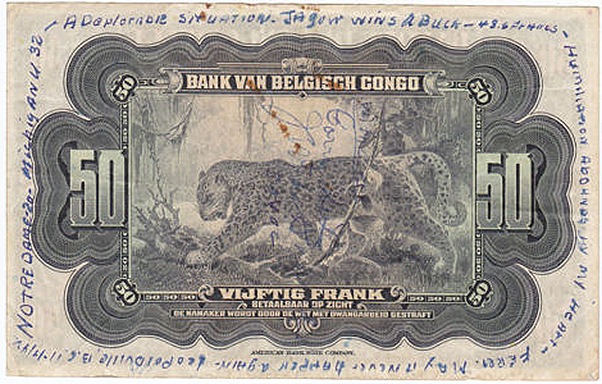 It reads:
Notre Dame 20 – Michigan U 32. A Deplorable Situation.  Jagow wins a Buck – 43.6 Francs.  Humiliation abounds my heart. (indecipherable)  May in never happen again.  Leopoldville, B.C. 11-14/42
It appears as though it is also signed by the gamblers in the middle of the bill.  Great stuff.
That 1942 in South Bend was a huge game and the first meeting between the teams since Shorty Longman's ruse in 1909 and perhaps more importantly, since the 1910 game was cancelled on the eve of the scheduled kick-off due to a dispute over the eligibility of two of the Irish players.
Bitter feelings were abound in the years leading up to the historic rematch as brilliantly chronicled by John Kryk in Natural Enemies.  And speaking of bitter, as the bitter Irish-leaning soldier noted on this bill, Michigan took down the Notre Dame 32-20 on that November day in 1942.  Here's broadcasting legend Bob Ufer* recapping what happened in the rematch:
Bidding on the righteous bill starts at $175.00.   Best I can tell, a Belgian Franc is worth about 3 cents :(
* Ufer was still a student in 1942 and according to the Bentley, didn't start broadcasting until 1945 so..either this was produced after the fact for some type of special series, or Ufer actually did do a few games as a student, or perhaps it was some sort of a demo.