I couldn't wait for Saturday so last night I made it up the Mount Pleasant to take in the Central Michigan vs. Eastern Illinois game. It's great to have football back again. Tailgating at Central was excellent (more on this shortly). We were able to park for $8 a few steps from the stadium in a perfect spot. Beer, brat, kraut, tator salad and pasta did the trick.
A few things I learned:
#1 – Dan LeFevour and the Chippewas can play. They took down Eastern Illinois 31-12 and looked pretty solid. Led by Rich Rodriguez's former offensive coordinator Butch Jones, they keep the tempo hot and they really could move the ball. They play solid special teams and I'll be interested to see how they fare at #1 Georgia next week. I think they would have given Michigan a handful had they been scheduled in the opener.
#2 – It ain't Ann Arbor. Along with the tailgate spots just outside the stadium, we were able to buy tickets this week on the 45 yard line in Kelly/Shorts Stadium. Keep in mind, this is the two time defending MAC champ, and they were recognizing the coaching legend Herb Deromedi for his recent entry into the college football hall of fame. Believe it, from our seats: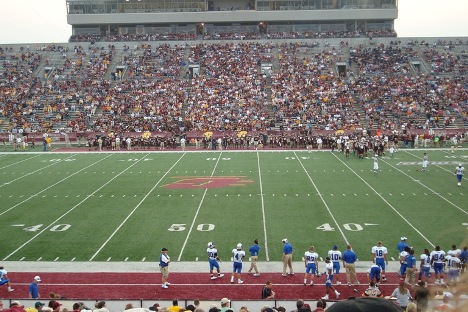 #3 – Chips travel in style. While we didn't need cab, next time I travel in Mount Pleasant I'm going to hitch a ride with Ghetto Fab Cabs: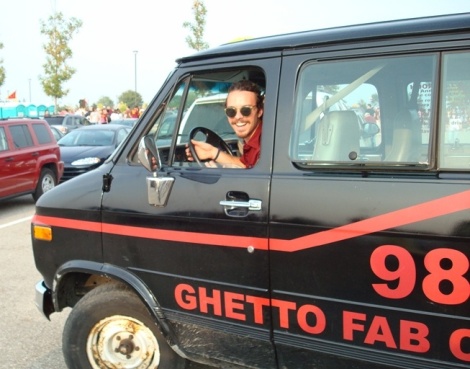 #4 – Serious Business. While they can't seem to fill the stadium, there is some passion there in Mount Pleasant and it's in the parking lot. Here's a couple shots from the full on rager going on in the designated students tailgating section outside the stadium. Note: the game had already started when these photos were taken: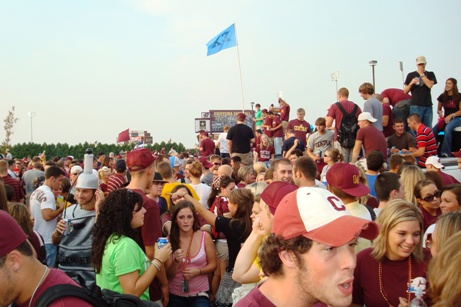 One observer described this mass as a mosh pit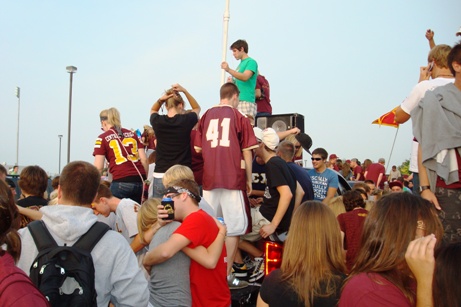 3 babies were conceived, one was delivered and the boy was aptly named Chip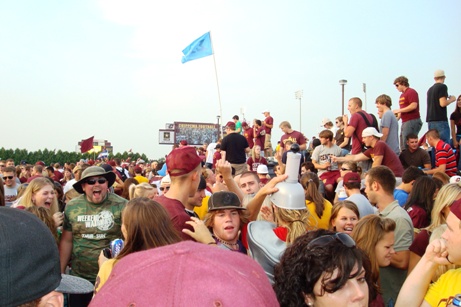 One gal dressed as a keg? Or the Stanley Cup?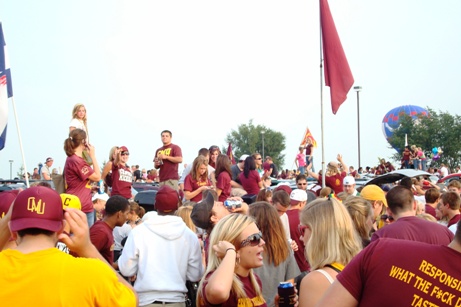 We must defend this house! But first we've got to finish this beer.