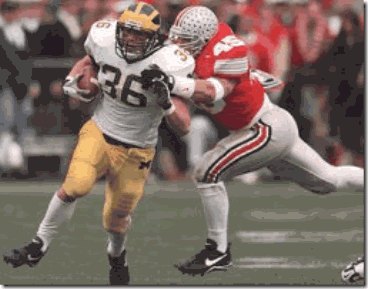 Detroit News via Mike DeSimone
Former Michigan fullback Aaron Shea dialed up Ira Weintraub and Sam Webb on WTKA on Friday to fire back at the comments made by Rick Leach on Thursday.  First the audio:
Aaron with Ira 10-16
Play Now
|
Play in Popup
|
Download
Notes:
"I wanted to talk about what Rick Leach said yesterday.  I was really disturbed about how he called out Coach Carr."
"There's not a bigger Michigan Man than I know than Lloyd Carr, and look who he learned from: Bo.  Bo coached Rick Leach and for him to call Lloyd Carr really, frankly, pisses me off."
Shea then went on to defend Carr's decision to sit in Erik Campbell's suite in Iowa City,

and I agree

.
"I want to let everyone know—don't ever question Coach Carr's loyalty and for Rick Leach to say that…I tell you what, I hope I don't cross paths with Rick Leach for a long time."
You can hear all of the WTKA 1050AM podcasts here.