The new Schembechler Hall museum is quite a sight – definitely check it out next time you have the means. According to #1000SSS "the Towsley Family Museum inside Schembechler Hall will be open to the public on Mondays, Thursdays and Fridays throughout the year. The museum will be open from 9 a.m. until 4 p.m. on those days and is free to the public."
The best stuff (to me) is the memorabilia, the vast majority of it is on loan from the personal collection of Ken Magee, the owner of Ann Arbor Sports Memorabilia. A couple items of note. Ticket to the 1898 Chicago game that inspired Louis Elbel to compose 'The Victors':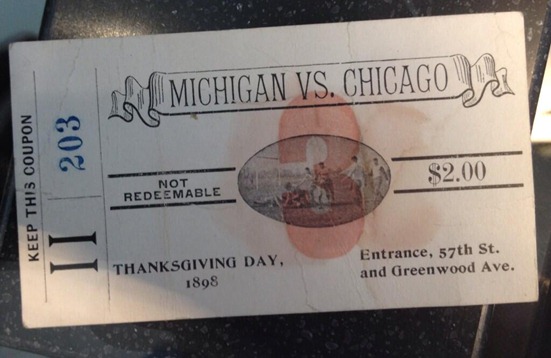 They also have a press "ribbon" to The Victors game in the display case.
This made my jaw drop – a custom-engraved badge presented to the U-M team from the epic 1909 Penn game (held in Philadelphia), when the crew of the U.S.S. Michigan came to the game and helped rally Michigan to an epic victory: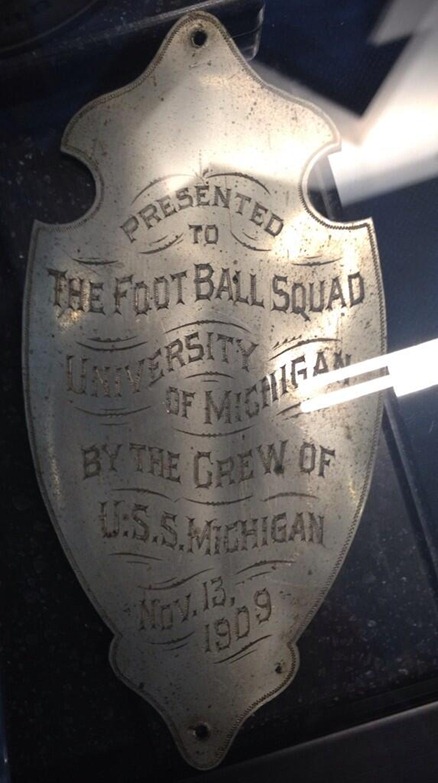 Elsewhere – one downside is that despite being a (very) spacious facility, they decided (at least for now) to not include the Little Brown Jug— not even the replica that has been on display in the museum for years.
That said, consider #1000SSS forgiven for including this note inside the display dedicated to the LBJ rivalry: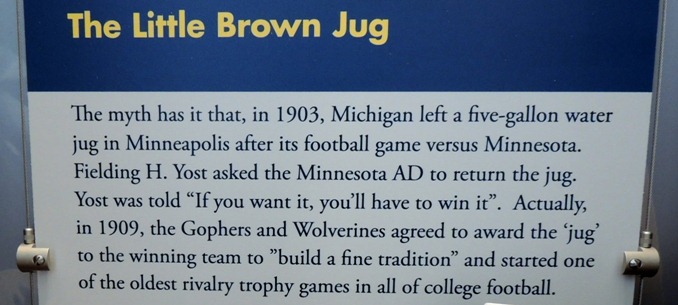 That's probably not very interesting or significant to most fans, but I was thrilled when I saw it. The myth of Yost asking for the jug's return really came to light as a part of the Little Brown Jug Lore series on these pages, and specifically in Chapter 8: The (True) Origins of The Little Brown Jug Rivalry.
P.S. I would have tied the 'myth' term in the sentence with Fielding Yost but I will leave well enough alone :)
P.P.S. Speaking of 1909, one ball on the Righteous Tower of Victory Pigkins (#RTVP) is of course from the Syracuse game that year. The score on that particular righteous pigskin? 44-0. /wink.
Follow MVictors on Twitter