If you haven't, give Mitch Albom's essay titled 'The Courage Of Detroit' a read. It was published in this week's Sports Illustrated and putting aside what you think of Albom, if you are from this area it's a must read.
One paragraph caught my eye, and I don't want to take away from the message of the story.     Albom was taking about the Detroit jokes about rioting, etc., and spun up this:
Same goes for the favorite Detroit cliché of so many pundits: the image of a burning police car in 1984, after the Tigers won the World Series. Yes, some folks went stupid that night, and an eighth-grade dropout nicknamed Bubba held up a Tigers pennant in front of that burning vehicle, and — snap-snap — that was the only photo anyone seemed to need.

Never mind that in the years since, many cities have done as badly or worse after championships — Boston and Chicago come to mind — and weren't labeled for it. Never mind that through three NBA titles, four Stanley Cups, Michigan's national championships in college basketball and football, and even another World Series, nothing of that nature has occurred again in Detroit.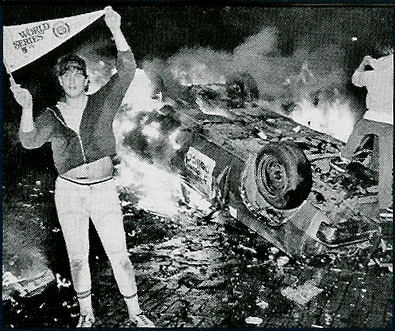 You might notice that while he mentioned Michigan's 1989 hoops and 1997 football championships, he neglected to mention Michigan State's 2000 basketball title.   Possible reasons why:
My first thought was that he didn't note the Spartan championship because there have been rioting incidents in East Lansing, notably after to losing to Duke in the 1999 Final Four (although I don't think there was anything like that after the 2000 win).
The other thought is that Albom brought in the examples of Michigan's titles due to Ann Arbor's proximity to Detroit (45ish minutes, and even closer to Ford's HQ in Dearborn) versus East Lansing which is a good 80 minutes away.  It seems subtle but in Michigan, no one considers EL part of Detroit while I think most would describe A2's locale as "just outside" Motown. Added to this, most Detroiters probably associate themselves with the Wolverines due to the proximity and the traditional athletic success.
Or, perhaps Mitch is still bitter at all the critics who to this day blast him for describing a scene in the crowd at the Spartan's 2005 Final Four which didn't actually exist.
If I had to guess – Albom used the promixity thing to avoid mentioning the MSU title, which would damage his point.