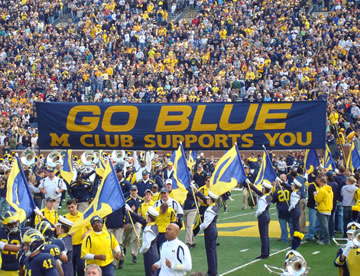 What a performance on both sides by the Blue. Honestly, the first half was pretty shocking. Michigan beat Purdue down in the first 20 minutes like you expected M to lay it on EMU. With both Illinois and Wisconsin losing, Michigan is right back into the picture and Ohio State just might be #1 in the first BCS standings on Sunday.
While the battle was won, and more impressively than anyone would have expected, we'll have to check Hart's status before anyone gets giddy. It didn't look good when the M sideline put in the full-on KGB 'Circle of Trust' around 20 right after he went down. Check it out: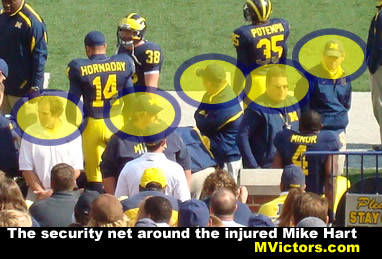 On a good note, Hart did walk back to the locker room on his power and didn't have to spend the second half in the tub or at the medical center. Here he is next to Ryan Mallett in sweats checking out the play calling in the second half: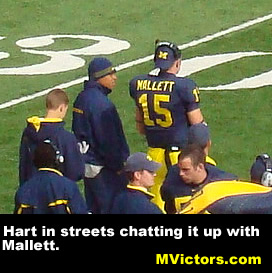 After losing Brandon Minor just minutes into the second half it lood pretty bad but Carlos Brown lost his fumble cast and looked great. I tell you, he seems to be a natural for the zone blocking scheme; it doesn't seem to fit Minor.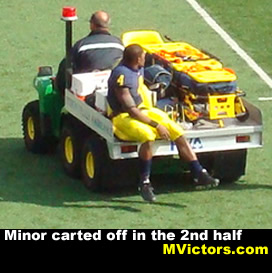 More takes on this homecoming game:



– Officially Hart now has somewhere around 970 consecutive carries without a lost fumble. That is just sick. He also went over 100 yards for the 7th straight time this year and over 1,000 for the season.
– Tiki Barber was on hand on the M sideline as a guest of Stephen Ross, rich guy/benefactor of the U.
– Playboy was in Ann Arbor this past week working on their latest 'Girls of the Big Ten' effort. To the left here's a shy "Amber Sue" getting ready for her interview with Heff's crew.
– It's always great to see the alumni band and cheerleaders. Here's an M man gentleman from the class of 1949: