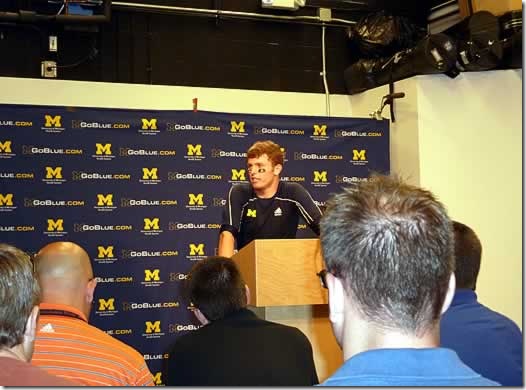 After the game the media assembled at Crisler Arena in a small room where they obviously do press conferences but apparently where they also film Inside Michigan Football, the pre-game coaches show that replaced Michigan Replay (and tons of folks are desperately imploring Google this morning to explain what happened to their beloved postgame show:)
Michigan brought out Tate Forcier, Denard Robinson, Rich Rodriguez, Obi Ezeh and Junior Hemingway.
A few observations and notes from the conference, hopefully with a little different perspective than what you get in the traditional media:
Forcier:
Forcier reiterated that he doesn't get nervous and it shows.  He gives off the air like he's been here for years, in fact when talking about the first touchdown he said, "the crowd helped us, as always."  Yep, just like in the Spring game when he needed a boost!
Robinson:
Denard Robinson was asked if he was surprised by the speed of a college defenders.  He replied by noting that he comes up against fast guys in practice like Troy Woolfolk and Boubacar Cissoko, except he wasn't clear on how to pronounce the surnames of these gents.  Woolfolk was "Woolfork", and he gave up on Cissoko after the "Sis".   I point this out not to suggest the Robinson is slow (he's actually really fast!) but rather as an illustration of how recently Denard joined this team–he's not even clear yet on the names of the guys on the defense.
Regarding his shoes, Robinson confirmed that there's Velcro securing them on his feet.
Rodriguez:
Still a topic of conversation with fans and the media was the Free Press investigation.  Michael Rosenberg was in East Lansing for this one but of course U-M beat writer Mark Snyder was onsite for the game.  Snyder asked the first question, related to the youth of the team.  Rodriguez wouldn't make eye contact when Snyder asked the question and I was half wondering if Rich Rod was going to ignore him all together.  He answered with a bit of a snarl and his body language showed he was clearly annoyed.
In general, Rodriguez looked a mix of annoyed & exhausted during the presser.  I think it was a little of both and that's understood after this week.  I also wonder if he wanted to man up a little bit after Monday's sob-fest.
He said Brandon Minor looked ok in warm-ups but wasn't 100%.  Read: he could have played if needed, that's good.
Ezeh/Hemingway
Ezeh has a bright future ahead of him no matter what he does on the football field.  His command of the press conference was very impressive.
Hemingway was a little uncomfortable with the media, but obviously pleased with the way things went on the field.  Pretty much wanted to answer questions and get out of there.
Related Posts