Released tonight from State Street.  Full roster from alumni flag football game: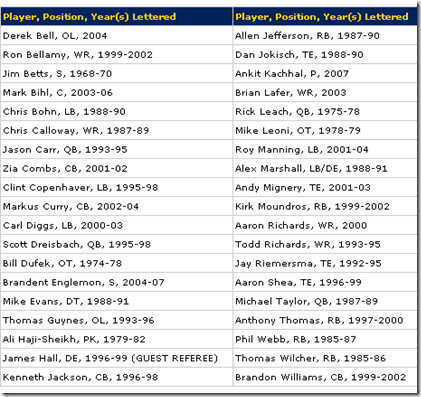 Per the release, "The teams will be announced during WTKA's broadcast from Michigan football practice this Thursday, April 9 (3-6 p.m.)."
One comment.  Certainly the agenda is more than full, but one of the nice things they did at last year's spring event in Saline was announce the winners of the spring team awards, like the Meyer Morton Award which has been given out since 1925 and went to Will Johnson last year.  Past winners include Jamie Morris, Stan & Braylon Edwards, Desmond Howard, Jim Harbaugh, and Gerald Ford in 1932.   The little ceremony took maybe 10 minutes last year if I recall; I'd like to see them do that again especially given all these former players will be around.  [Update 4/8:  Dave Ablauf at media relations confirmed that the awards will be announced at the spring event again this year.  Good news.]
Other stuff:
–  Members of the Pittsburgh Steelers' Super Bowl XLIII winning team, including linebackers Larry Foote and LaMarr Woodley, safety Ryan Mundy and assistant offensive line coach Harold Goodwin, will be recognized during the game.
– In addition, three U-M national champions from this season, Tyler Clary (men's swimming and diving), Steve Luke (wrestling) and Tiffany Ofili (women's track & field), will be honored for their achievements.
– Forty (40) randomly selected U-M students will have the opportunity to hold the historic 'Go Blue' Banner for the team to run under upon entering the field prior to the scrimmage.
– The athletic department will randomly select two U-M students to attempt field goals with the chance to win adidas gear and/or a $500 gift card to purchase books for next semester.
– Also scheduled to be in attendance are: Steve Breaston (Arizona Cardinals), Mike Hart (Indianapolis Colts), Jon Jansen (Washington Redskins).