I started to take a peek at my DVR of yesterday's game and I made it about three seconds in.  We nearly lost our pre-season All-American and Ray Guy candidate punter Zoltan Mesko in what would have been an embarrassment on par with Appalachian State.  I stood about foot away from Mesko seconds before this happened (here's proof) and I can tell you he was pumped up. 
Clearly stoked to lead the team onto the field with the seniors this season, he seriously overcooked the leap to the M Club banner.  Here's how it looked:
Stills with analysis: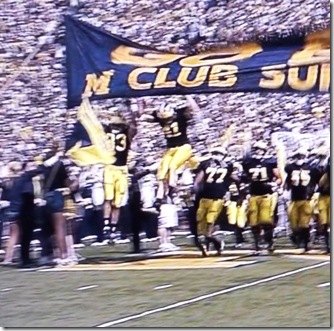 #1 The aw-shucks moment: He probably realizes this might be trouble, caught more of the banner than he wanted, now just hoping he can land it.
— ———————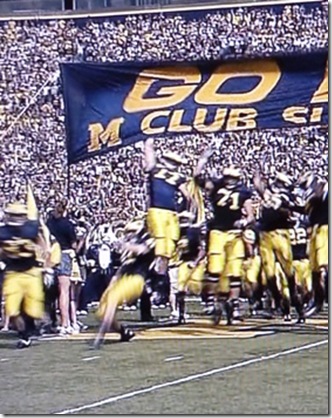 #2 Despite being a Romanian, there'll be no Nadia Com?neci-esque landing here today.  Way too far on his heels, heading for disaster.
———————-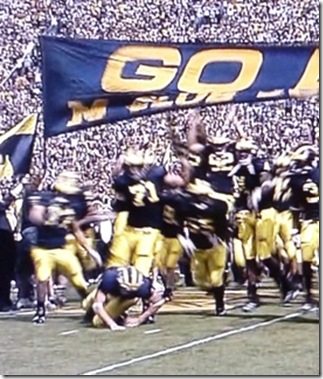 #3 Now down on all fours, Mesko realizes this not only looks bad in front of 100,000 live and millions on TV, he's got 119 guys barreling behind him with only slightly less vigor.
—————————————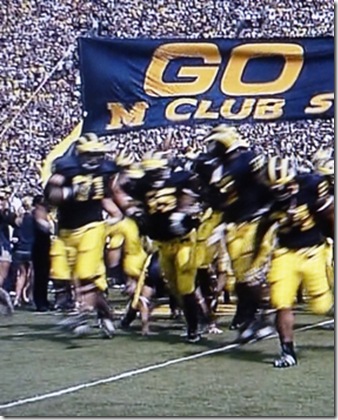 #4 A glimmer of hope, he gains some footing and he wasn't crushed by the guys directly behind him.  Still might get worse before it gets better.
————————————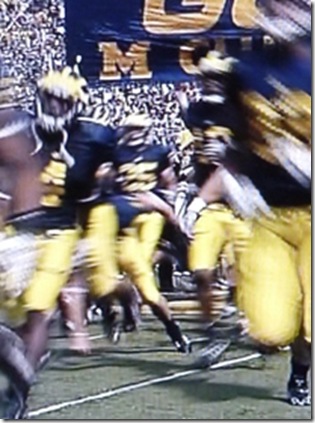 #5  He remarkably manages to avoid the trample and gets upright.  Now Mesko's thoughts turn to hoping no one saw this happen and puts it on the internet.
——————————-
Recent Posts (Western Michigan Coverage):