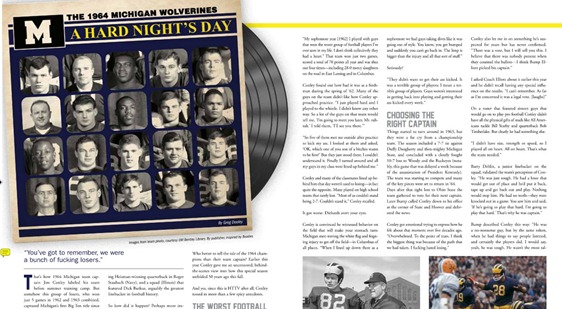 A Hard Night's Day – via Hail to the Victors 2014.
Yo! I've been wrapped up for a while with all kinds of stuff, including working on some interviews and pieces that you coming up soon or this fall. Things will being to ramp up on these pages soon heading up the season. Things to look for:
Hail to the Victors 2014 – Within the pages of mgoblog's annual epic preseason book, this time I dropped in a piece on the widely ignored 1964 Big Ten/Rose Bowl championship team. It takes you through the season primarily through the eyes of team captain Jim Conley, along with some help from his coach Bump Elliott and teammate Barry Dehlin. Earmuffs! It's harsh – it's spicy – and after you read it you won't have a problem remembering the '64 team.
GoBlueWolverine Mag – Coming out before the season, I dropped in my interview with Bump Elliott that you'll dig – it talks about the '64 team of course, but also gets into Woody, Bo, Bump feeling on his own legacy and much more.
2014 Game Program – Still working on some stuff for the program (a few things in the works) and I interviewed both Dan Dierdorf and Jim Brandstatter. You'll get the full interviews on these pages later on. A sneak peak:
MVictors: You have a lot of friends in the business and many with Michigan ties. Any chance you'll have a few visitors up in the radio booth during the year?

Dan Dierdorf: I would hope so. Yeah. Who knows who might stop by? I know I've extended an invite or two to some of the guys. Bob Seger has a home up by me in Northern Michigan. I know I have reached out to Bob, said "Hey, anytime you want to come to a game, feel free to stop by." We'll put him on the air for a while. He's got a little bit of a following in Michigan.

MVictors: He sure does. How's Bob as a person?

Dan Dierdorf: What a great guy. Just a wonderful guy. I'm not going to lie. I'm semi-starstruck around him. I've just been a fan of his for so long. He's the most down to earth guy. If you didn't know what Bob Seger looked like, you wouldn't realize you're in the presence of such a star by the way he acts. You'd think this is a guy that just drove up in a truck and wanted to hang out and talk for a while. Great guy.
More to come.
Follow MVictors on Twitter