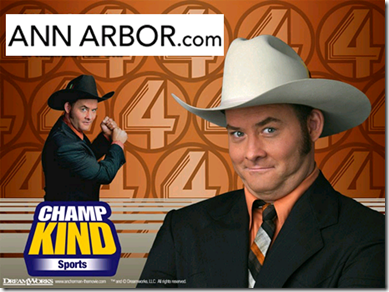 Via a Tweet from Tony Dearing, AnnArbor.com is starting to post their job openings and today released the job description for Sports Director.   The full post is here – a snippet for you and a few comments below:
Job Title: Sports Director
Company: AnnArbor.com
Location: Ann Arbor, MI
Work Experience: 3 to 5 years
Education Level: Bachelor's degree
Date Posted: April 29, 2009
Job Type: Full Time Employee

Job Description:
The Sports Director is responsible for leading overall sports coverage, and is committed to excellence in coverage of University of Michigan sports and local high school sports. The Sports Director will cover games and produce content, as well as oversee staff journalists and freelancers. This individual should live and breathe the gospel of multi-media and constant updates, and is responsible for making sure that the new U-M sports content pages achieve their full potential. [emphasis mine]
Part of the job 'Duties and Responsibilities' includes "Establish relationship with bloggers and understand the value of linking to and aggregating blog content" and a 'Required Qualification and Skill' is "Ability to develop and maintain relationships with bloggers."  (Hint: offer tickets to that new Star Trek movie.)
Freelancers
I'm pleased they plan to use free lancers to support their content.  I've done a little work outside this blog for Heritage News, the Ann Arbor Observer and will again be in Brian Cook's excellent Hail to the Victors preseason guide this season.   I enjoy doing the freelance work because there's some content I produce that doesn't really fit on a blog, and it also offers an opportunity to reach folks who may never read this site.  I hope there's an opportunity at AnnArbor.com to publish some of the bloggers in the area.
AA.com won't have a shortage of folks wanting to submit content and it's a cheap way (if they pay per piece) to round out their coverage.  The drawbacks?  Probably narrowing down the list of writers they can depend on to produce quality content and meet deadlines, and then, dealing with stubborn authors who don't like the editor's changes.  We'll see how things shake out.