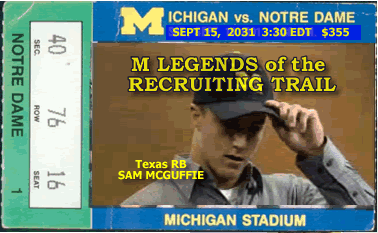 Michigan football is currently in a contract to play Notre Dame through 2031.  HOWEVER, according to media relations there is an update today at 2:30:
University of Michigan Athletic Director Dave Brandon and Football Coach Rich Rodriguez will meet with the media today (March 18) in the Commons at Schembechler Hall, beginning at 2:30 p.m. EDT. The press opportunity is in regard to a football scheduling announcement with Notre Dame.
Says me, quickly: I sure hope they are not breaking this contract!   Perhaps a night game is in the works?   Perhaps they'll square off at Yankee Stadium?