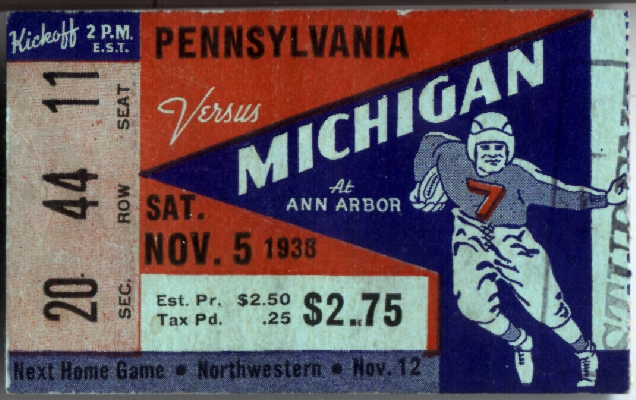 For Saturday's This Week in Michigan Football History we headed back 78 years to 1938, the year Fritz Crisler made his coaching debut in Ann Arbor.  Fritz was brought in to do a fixer-upper, as the Harry Kipke-era left the program in a shambles:
This Week in Michigan Football History - Navy 1938
Play Now
|
Play in Popup
|
Download
As always, this segment appears on 1050AM WTKA and 1330AM WTRX's epic KeyBank Countdown to Kickoff prior to each game.  During home games you can hear it live inside the Go Labatt Blue Light Victors Lounge starting 4 hours prior to kickoff.  Go Blue!
You can listen to all of This Week in Michigan Football History clips here.
Follow MVictors on Twitter
script after the jump:
This week we head back to 1938, a season when many changes were afoot in Ann Arbor both on and off the field.   On this Saturday 78 years ago first year coach Fritz Crisler led his 4 and 1 Wolverines against one-time powerhouse Penn in a game played at the Big House.
Michigan lured Crisler from Princeton where he successfully turned around the once proud Tiger program winning  a pair of national titles..   Fritz would be tasked with another fixer upper in Ann Arbor, as previous coach Harry Kipke had managed only 10 wins over the four year stretch since Michigan's 1933 national championship.  
That stretch included four straight losses over Ohio State where U-M was outscored, cover your ears, 114 to nothing.
Kipke was fired in 1937 for more than just those losses as he was found guilty of conducting illegal summer practices and allowing for a scheme involving fake jobs for players where they were paid.  Michigan hoped the no-nonsense and straight-laced Crisler would put the program in its rightful place on and off the field.
Fritz had some help as Kipke certainly left some major talent behind.  Making their playing debut in 1938 was a set of sophomore stars, including back Paul Kromer, future captain Forrest Evashevski and most notably, would-be Heisman winner Tom Harmon.
In the game held 78 years ago today against Penn, Michigan took a 19-0 lead into the fourth quarter thanks to two scores by Kromer.  The Wolverines survived a late Penn rally to win 19-13 and improve to 5 and 1 on the season.
While Crisler's start benefited from Kipke's players, he brought some of his own magic to Ann Arbor—namely the coveted winged helmet.  Funny, no one at the time seemed to really care … and you are hard-pressed to even find a mention of the newly designed headgear in the papers that season. 
The Wolverines finished 1938 going 6-1-1 including a season-ending 18 to nothing dismantling of Ohio State.  Crisler succeeded in putting Wolverine football back on track  — on and off the field — and he set the course for MEEECHIGAN'S next two national titles in the 1940s.