This auction came and went on eBay, with buyers perhaps scared off by the nearly $4,000 asking price.  The seller claims, backed up by a letter of authenticity, that this is a Bike helmet that once belonged to the great Anthony Carter:
Is it the real deal?   Paging Dr. Sap!
Coincidentally this ties in two recent posts on these pages.  First off, the Michigan Bike helmet was the offspring of the research performed by Elwyn Gooding and the team from U-M.    And while we're on the topic of Carter, AC is featured in one of Dr. Sap's throwback NCAA Football covers.  Also featured is a gent I described as the most interesting man in the world: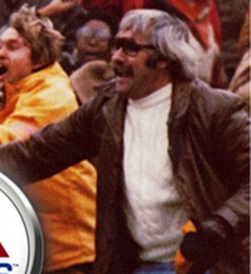 Thanks to notes from his nephew and his son, we now know that this man is Jerry Wright, who worked at the Ann Arbor police department.   Mr. Wright passed away in '99 but he lives on in Michigan lore!
Update:  Great comments below on the analysis, and Dr. Sap sent over this collage of AC photos: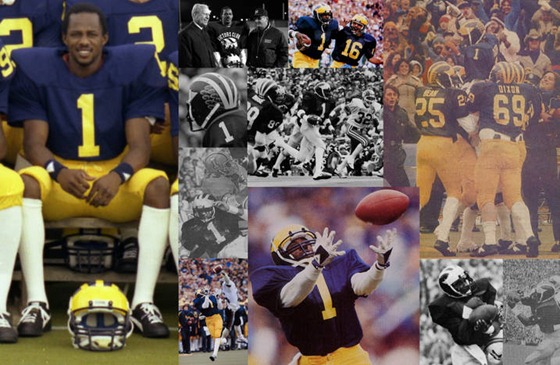 Update #2.   An anonymous former player weighs in:
Just as a side note the helmet may have well been Anthony's but the claim that he wore it for three years is probably not accurate.  We were issued new game helmets every year and quite often our previous year's game helmet became our practice helmet the following fall.  Unless Anthony asked for the same game helmet for some reason I don't know that he would have had the same helmet for three years.  Plus there are no blemishes or scratches on the helmet that he would undoubtedly would have received even as a receiver.  And, if I recall, AC won a gold football or two during his years there.  It may very well be his helmet but probably a practice helmet.