Via my Google keyword spybot sentinels…from the Escanaba Daily News (naturally!), check out this piece on 92 year-old alum August Altese (inset left). Augie played on the freshman team in 1940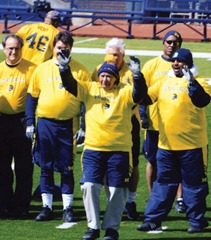 and suited up once more for the Victors Classic prior the Spring Game a few weeks ago.
A few choice cuts from the story:
On taking the field: '"I didn't have my hearing aids in and they just pushed me out there," Altese said. "I was so pleased to see that everyone was clapping. They assigned me the last five minutes and I just kind of ran this way and that. They didn't throw anything to me, but when I was warming up they threw me three passes. I missed the first two, caught the third one and fell, and I still feel it."'
On Billy Taylor: '"He was a great runner for Michigan, but he boozed it up and got into drugs after graduation," Altese said. "Now he's running an establishment that helps people. He's a great guy."'
and check this out, on Tom Harmon's sponsored-sled(!!): '"As a freshman at Michigan in 1940, Altese didn't get much playing time, and though he was on the same team as legendary Michigan quarterback Tom Harmon, he said he never met him. [Ed. The author didn't know or point out that freshman played on a separate team.] "Tom Harmon drove around in a coupe. He was being paid by Wrigley's Chewing Gum," said Altese of Harmon's celebrity, obviously playing at a time before current NCAA regulations prevented that sort of thing.'
On Yost and his righteous leather chair: '"Altese also met Fielding Yost, the legendary Michigan coach who was in his later years at the time was a frequent conversationalist. "I talked to Fielding Yost several times at Michigan Union. He was in his 70s or 80s and loved to have people come and talk to him. He had those leather chairs and he'd be there."'
Love it. Read the entire piece here.
And re: Harmon's nice sled, purchased no doubt with a little assistance from his powerful friends at Wrigley. At best a gray area in the rules if Wrigley "hired" Harmon to promote their gum, and 98 bought the coupe with the money. We know that Kipke (who recruited Harmon) was sacked by U-M due to a scandal involving a illegally paying players via fake jobs. Promoting gum sounds like a bona fide fake job—perhaps the phoniest in the pantheon of fake gigs. The conference didn't allow athletic scholarships back then, and it's clear by Harmon's actions following Kipke's dismissal that he needed something else (see $$$) to stay at Michigan. LIFE magazine discussed Harmon's off-the-field pursuits to make dough in this 1940 piece, including "distributing gum samples"…
Harmon holds a scholarship, works hard to maintain his good B average. He helps pay his way through college by distributing gum samples, selling shoes and books, running copy for a printer. In his spare time Harmon collects swing records, goes around with pretty Margot Thoms (left). He runs a sports show over a local radio station on Saturday mornings. Although he gets no pay for this show, he hopes to become a sports announcer after he graduates next June.
There were rumors abound that Harmon was nudged from Horace Mann HS (Gary, IN) towards Ann Arbor via influential Chicago alums..certainly none of those fellas in the Windy City club knew anyone downtown at Wrigley. :) Ahh, something to chew on.
Follow MVictors on Twitter