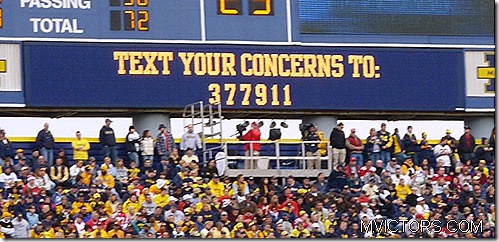 Prior to the Iowa kickoff I heard from good sources that the athletic department revoked some premium seating privileges as a result of unruly behavior from certain fans during the Michigan State game.
Tonight I spoke to Dave Ablauf from media relations who confirmed that two individuals had their tickets in the premium seating areas revoked due to consumption of alcohol inside the stadium.  Ablauf said they reviewed the incidents with fans seated near the offenders and ultimately made the decision to take away their tickets.  He added that premium ticket holders sign an agreement that clearly states the beverage policy.  
I think that everyone is clear on the alcohol policy but it sounds like a few folks got out of control and earned it. 
Ablauf wouldn't confirm whether the offending fans were rooting for Michigan or for Michigan State, instead stressing that the alcohol policy applies everywhere in the stadium to ticketholders and their guests.