I heard a few folks on WTKA this morning claim the lines for the new bathrooms in the Big House were horrendous on Saturday and one of the callers blamed it on the removal of the troughs.  Beyond the extended delays, I hear this spawned tactics like the Spartan Stadium-esque entry through the exit door: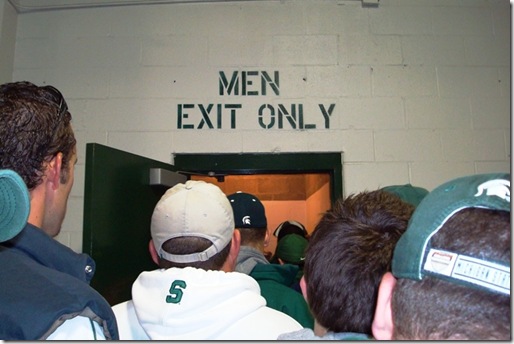 Back in May I feared this might happen:
For me, anytime I have to leave my stadium seat I've got one mission: return as quickly as I can.   Unless they expanded the size of the bathrooms there's no way you can achieve the throughput the troughs provide with stalls or urinals with dividers.
What was your experience Saturday?
P.S. on PINS:   I got a tweet from a gent who says he his dad weren't able to get the commemorative pins that were being passed out.  Did they run out?