Urban Meyer's Florida Gators are struggling a bit in 2008. First they suffered the beat down at the hands of your Wolverines in the Capital One Bowl, now this.
Turns out there was a little mishap with the Sears Trophy. Yep, their prize for their 2007 BCS Championship win over the Buckeyes has seen better days: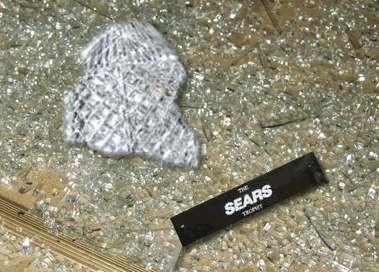 From USA Today:
It may remain a mystery who actually destroyed the crystal football, which shattered after hitting the ground outside head coach Urban Meyer's office. Florida has already contacted the company in Kentucky that makes the base of the trophy and imports the crystal from Ireland for a replacement.

Florida associate athletic director Chip Howard confirmed the accident. The trophy was sitting on a coffee table outside of Meyer's office while construction of new coaches' offices is being completed.
"It may remain a mystery"? I'd like to understand a little more behind that line. As if anyone can plop down outside Urban Meyer's office and kick up their feet on the coffee table? I'm guessing they have a decent idea who broke the trophy.
Reaching back on my Clue skills, I'd start with:
– Professor Gatorade
– In the Coaches' Lobby
– With a Cheerleader.