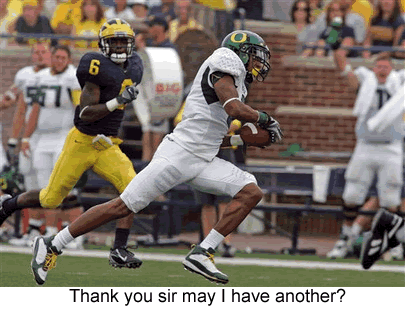 I don't know whether to laugh, cry or not worry about it until Sunday. The Oregon Ducks
fall to Arizona
and suddenly they're on
target to end up in Pasadena
.
Anyone who witnessed that beat down in early September certainly has to be concerned about a rematch with those Ducks. At the same time, what a better demonstration of how has Carr turned this team around then by avenging, in the same season, one of the most brutal defeats in Michigan history?
I'll have to check to see that last time Michigan has played the same team twice in one season in the modern era. Michigan State pulled off this feat in 1987 by beating USC early on in East Lansing. The Spartans then took down Rodney Peete and Trojans in the Rose Bowl later that year. Note: I was at both games screaming until my throat was sore for the Spartans.
Update: I think I found the answer – In 1982, Bo's Wolverines played UCLA twice losing both games. On September 25 UCLA came to the Big House and took down the Blue 31-27 and then doubled up the Wolverines 24-14 in the Rose Bowl.