A fabulous resource for the NCAA tournament is over at Pete Tiernan's bracketscience.com.  I interviewed Tiernan, who lives in Saline, back in 2009 and today you can also find him on CBSSports.com dropping tourney knowledge.
One interesting tidbit for U-M fans is the following table.  Coach Beilein remains among the top coaches in the NCAA tournament based on Tiernan's 'PASE' (Performance Against Seed Expectation') metric: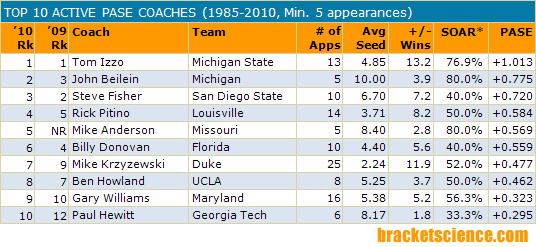 Tiernan explains how PASE is determined:
PASE is a simple concept. Every seed has recorded an average number of wins per tourney in the modern era. The average top seed wins 3.42 games per dance, two seeds win 2.43 (almost exactly one game less), three seeds win 1.84 and so on. When the coach of a top-seeded team wins four games to reach the Final Four, he overperforms by .58 games. If he wins the championship, he exceeds seed expectations by 2.58 games.
Not surprising that Coach Izzo is #1 on the list, and Steve Fisher is firmly in the third slot when you factor in the 1989 and Fab Five runs.  Of course many fans have reminded Tiernan of the Ed Martin scandal and question whether it should count:
(Many have emailed me to argue that he shouldn't be on the list at all, given that the tainted Fab Five contributed to his overachievement.)
Stop the emails and let the man crunch numbers!
Related:
* BracketScience.com