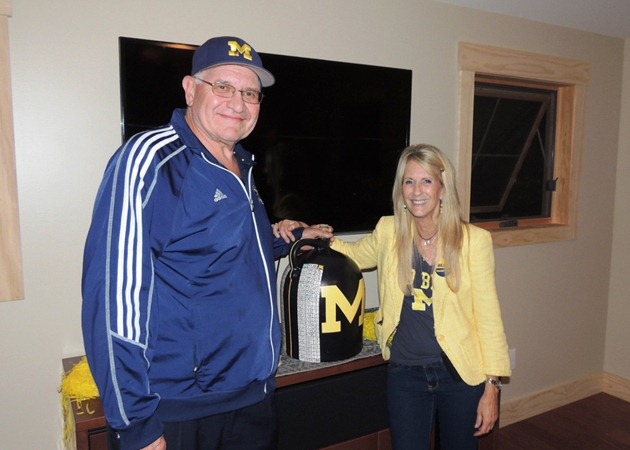 Falk with artist Jil Gordon and the replica jug she created. Jon makes the jug actually look "little"
What a cool event for Jon Falk held at MGoPatio last night! Props to Wolverine Beer for running the tap and for Slow's BBQ for delivering the food. I dialed up WTKA this morning to talk about the night (and a little jug business) with Ira and Sam:
WTKA discussing Jon Falk's night and the Little Brown Jug
Play Now
|
Play in Popup
|
Download
While I can't recap everything, I captured a few of the quotes delivered by Jon's longtime colleagues Coach Jerry Hanlon and longtime trainer Paul Schmidt. Coach Hanlon started by joking about how stingy things were at Miami, OH when Falk worked there, but because of that Jon brought a certain attitude to Ann Arbor:
"He put in our kids into a mode that not everything in this life is free, not everything that's going to happen to you is going to be great. He kept them on a straight and narrow program. He brought a realistic attitude on how to handle the kids, and I really believe he's done as well as any coach here in developing young men and having them understand that this isn't a free ride, you have to work for what you want to get. I have a great deal of respect for him."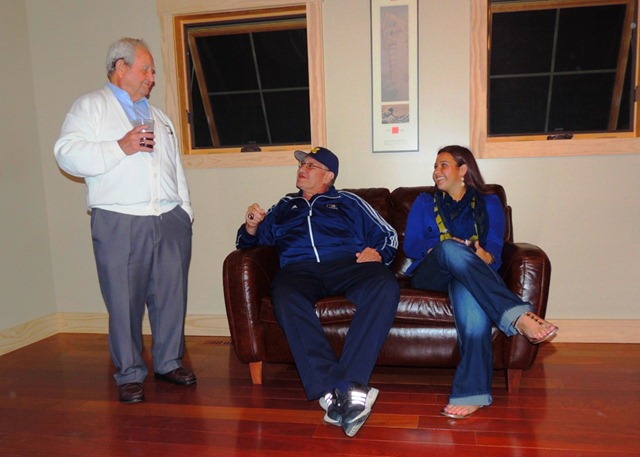 Hanlon, in his vintage M sweater, chatting up Falk and Jon's daughter Katie
And Schmidt shared this:
"I've had the privilege to work with five head football coaches, and I've got to stay as we've gone through transitions as well. You guys don't know because you're not in the locker room, but on gameday the guy with the most genuine love for Michigan is right there—Jon Falk. Every player knows it and every coach knows it. It doesn't matter if we're playing Akron, or Ohio, or Michigan State, home or on the road, he is fired up. He gets the players fired up. When they're walking out that door they hear Jonny's voice in their ear…and it's special."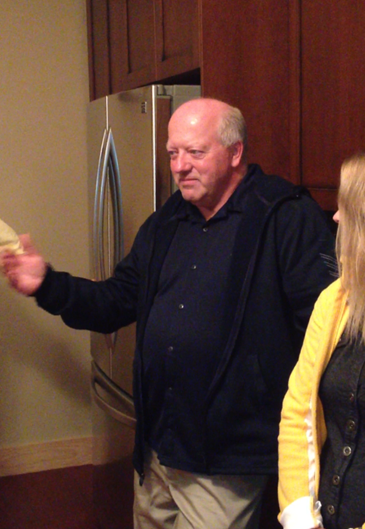 Paul Schmidt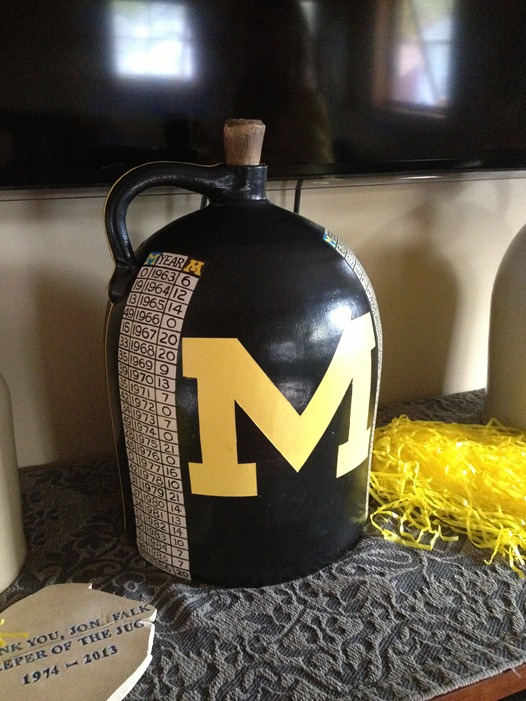 A Better look at the replica
Speaking of the jug….I will be out and about on Saturday talking a some Little Brown Jug Lore, first live the show with the fellers from The Wolverine between 11 and noon. I'll be live again in the Victors Lounge with Ira, Steve and Sam at around 12:15pm. And maybe elsewhere – stay tuned!
Follow MVictors on Twitter