Had a chance to roll up to The Palace to the see the Pistons face the Trailblazers who picked up former Fab Fiver Juwan Howard last fall.    Howard's the last of those guys playing and I was in school when Juwan first took the court at U-M back in 1991.  He didn't start but played most of the game in the 97-93 Blazers win. 
He didn't do much in those minutes–he tallied a bucket, picked up a couple fouls and missed a few shots and free throws.  But he was involved in a scuffle that migrated off the court in the second half, netting the Nook a technical foul [video here].  Piston Charlie Villanueva was the featured Piston bobble head for the fans, and he delivered the hard foul that started the fracas.
Speaking of the Fab Five, part of their legacy is the baggy shorts and black socks and right now an eBay seller is offering baggy shorts that allegedly belonged to wingman and occasional M hoops local radio color man Jimmy King.   Unwashed?  Unknown.  But they want $425 and here's the photo: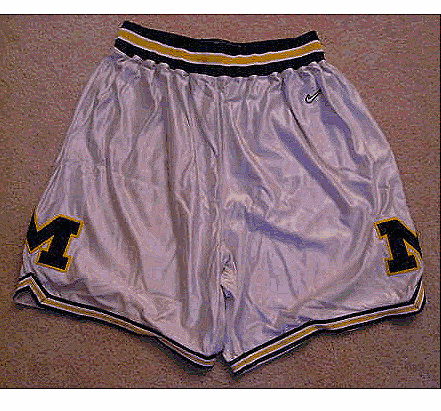 Authenticity?  Tough to say, but the seller claims, "My older brother attended Michigan and his roommate was a team manager during the Fab Five time."  So there you go.
Back to Juwan, here's a few photos of the big man in action, including a couple of the brawl: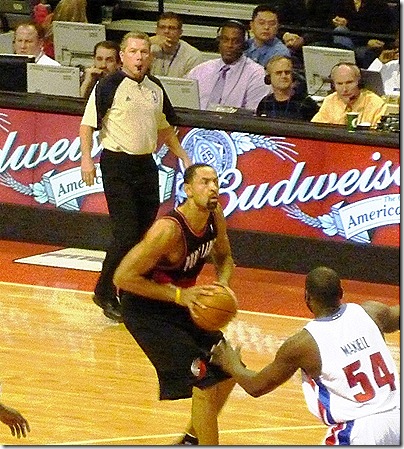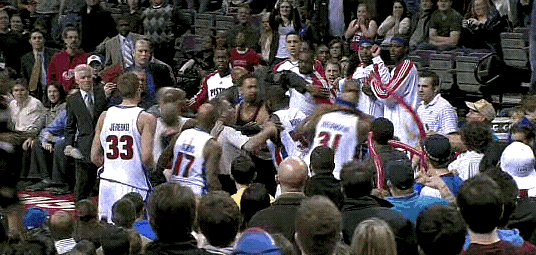 Charlies: