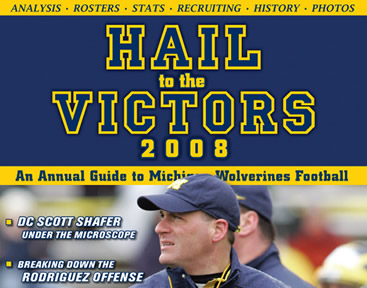 Go now – get your copy of Brian Cook's Hail to the Victors 2008 – An Annual Guide to Michigan Wolverines Football. And not just because there's an article by yours truly in there.
I finished it up this weekend. Last year was the inaugural issue for the guide and it was very well done [MVictors review] and a fine read – this year's edition is outstanding.
The analysis of each unit is sharp, detailed and offers another feature you won't get in the typical preseason guides- some solid laughs. (Cook prescribes a having a glove handy if you are watching the Sam McGuffie mixtape for the first time "so you can be slapped out of your hysteria".) A sampling:
– "[TE Carson] Butler is one of those guys who creates a mismatch as soon as he walks on the field, but that mismatch is only in favor of Michigan if he goes out in a pass pattern."
– "Junior LaTerryal Savoy's sell-by- date has expired."
– HTTV '07 dropped this on Morgan Trent: "In two years of playing time he's yet to make a great break on the ball to disrupt a pass." Cook summarizes Trent's improvement in this year's guide, "Teams actually avoided him [last season]."
– On Donovan Warren: "He's a split second here and there from becoming a blanket. A step forward from "good for a freshman" to "bad mother" should happen."
Great Stuff:
There are several excellent reads in the balance of the guide, here's a few of my favorites:
– Paul Campos breaking down the internet frenzy in the days surrounding the coaching search. I wonder what Eerhole is up to these days.
– Michael Elkon takes a look at the top college coaches and their first few years at the helm of major programs. I'll save you some time: wait for 2009!
– Two excellent pieces that take you inside Coach Carr's circle, one by John Saward on Carr himself which folds in an interview, and Craig Ross gives the blow-by-blow inside one of Scott Loeffler's quarterback sessions that leaves your heading spinning like Linda Blair.
Other takes:
– Someone in the final editing (presumably someone at Maple Street Press – no way Cook would have let this go) referred to former OSU coach Earle Bruce as "Bruce Earle" in a photo caption. It sounds right and I guess if you are going to disrespect a former Buckeye coach, this is the place to do it. Fortunately we were spared a caption with former Michigan coach Elliott 'Bump' Chalmers.
– I would have liked to see a little more coverage of "The Enemy", especially Michigan State. There are full spreads on the Irish (nicely done once again by Brian Stouffer) and the Buckeyes (Thomas Orr), but the rest of the coverage of our opponents is a tad light.
In summary – go get your copy!