Big props to the team of writers & bloggers that pulled together "Hail to Victors 2007", a preview of this year's M football season. As editor Brian Cook of mgoblog argues in the opener, content from the blogosphere can reach highs that "far outstrip those produced by a newspaper industry reports and forgets in a day." I think they hit the mark with this one.
Overview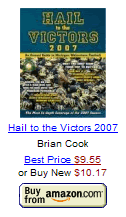 Some might say it'd be hard for a guide titled "HAIL TO THE VICTORS" with a section on M opponents section titled "THE ENEMY" to be unbiased. Yes, the content slants towards maize side of the house, but they authors solicited the help of those inside enemy camps to offer analysis. The Notre Dame preview is dropped by Brian Stouffer of The House Rock Built, and the rest of the opponents overviews were submitted by Matt Hinton of Sunday Morning Quarterback.
Cook's review of the offense and defense provides an assessment of what each player has (and hasn't) brought to the field to date along with what needs to happen in 2007 to make it work. He touches on points that you and the dude sitting next to you in the stadium are thinking (after your whiskey buzz from the tailgate starts to wear off). A few examples:
On Tight ends "Tight end…is a mess of question marks. [Mike] Massey will probably be an unremarkable starter; past him there is almost nothing.

On new captain Shawn Crable "…questions remain as to whether Crable can be the sort of reliable leader Michigan had in abundance last year."

On oft-criticized DB Morgan Trent "In two years of playing time he's yet to make a great break on the ball to disrupt a pass."

On the safety position: "Just once it would be nice to have a safety who opponent fans fear instead of Michigan fans."
Elsewhere school is in session on Michigan's zone blocking/running scheme, and there's solid pieces dedicated to Chad Henne (by Dave of Maize N Brew) and Mike Hart (nicely delivered by John of Ronald Bellamy's Underacheiving All Stars). John Pennington (the author of The Ten Year War) served up a nice chapter on the 1973 snubbing of Michigan for the Rose Bowl. This was a great reminder of heart and soul of old General Bo Schembechler.
A Chris 'Topher' Anderson from the Stanford Daily provided a piece on Jim Harbaugh's new gig at helm of the Cardinal, and looked back at his football roots. What he didn't include was any reference to Harbaugh's comments critical to Michigan although there were quotes from Harbaugh about his vision of Stanford being the mecca of scholar athletes.
Statistical analysis of recent Michigan offensive coordinators and Coach Carr's coaching record round out the preview. I don't think the results will sway the opinion of any talk show callers anytime soon, but they are interesting nonetheless.
Staying true to its nerdosphere roots, the guide does contain references to The Borg and to one of Gary Kasparov's defense strategies. If these things don't make any sense to you, congratulations, there's a chance you might not be a nerd.
Criticism?
– No where did the guide break down Michigan's special team units. How is Zoltan going to win the Heisman if he doesn't get some mention within publications such as this?
– The writers couldn't figure out what to do on the last page of the guide so they put a enormous table of the 2007 schedule, including an unidentified asterisk (I figured it out). Picky maybe, but I think we've got the date and time of games pretty much figured out. I would have preferred a reset of M Zone's 2006 coaches Halloween costumes save the one of the Stud Boy.
Summary
Get it now, man! Kick off is just a few days away. For those too cheap to pay the shipping I found mine on the newsstand at Busch's in Saline. On second thought, maybe don't get it for fear you'll give these guys the idea that we'd all pay for their takes.