If you peeked into the M Twitterverse in the waning moments of the dismantling of the Volunteers early Friday afternoon, you got a tiny taste of how it will feel if once we tip over the Buckeyes on a future Saturday in November. 
Tiger Blood.  ESPN captured this sign in the crowd: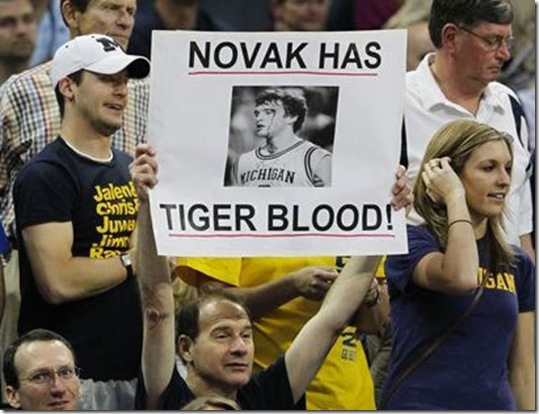 And apparently Zack Novak spotted it, loved it, and found Kevin Pollack after the game a retrieved the sign.  Rothstein:
The fan who made the sign happily obliged, and it sat in his locker after the game.

"I just wanted the sign," Novak said. "I think Charlie Sheen's hilarious.

"That's an awesome sign, that's my favorite sign."

The sign will go back with Novak to Ann Arbor, where he said it will hang in his room — likely right over his bed.
It's unknown whether Novak ask for the number of the gal doing the hair flip, or where the dude behind Pollack got his Jalen-Chris-Juwan-Jimmy-Ray shirt.  I'd check here.
Drawing Blood.  You've probably heard several dozen times that Michigan didn't make a free throw in the game, but to reverse paraphrase Patrick Ewing, we didn't make a lot of free throws because we didn't shoot a lot of free throws.  No one's complaining, but maybe Smotrycz should have headed to the stripe after this?: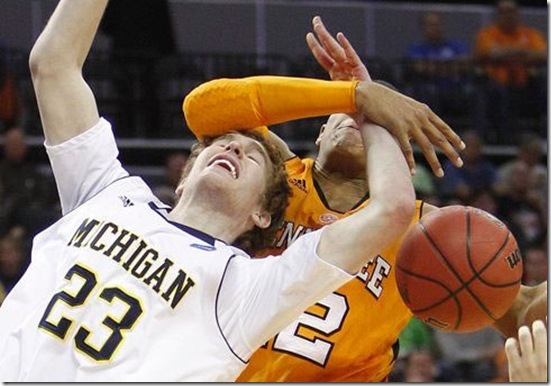 Cold-Blooded.  What was the most cold blooded moment of the game?  Darius Morris's drive and behind-the-head scoop at the end of the half is up there.  Douglass's 30 foot bomb followed by the two-handed Disco Stu slam?
Bad Blood.  Funny, many thought there was huge potential for a major Fab Five tie-in to the 2011 tournament—but not in the form of a Duke-Michigan game.  Many like me thought we were heading for a bracket potentially pairing a #10 Michigan in a second round battle with Steve Fisher and #2 San Diego State.  I'd rather be playing Fish but bring on the Devils.  Maybe by Sunday someone will explain to the "classy" Grant Hill that Jalen was talking about their feelings in 1991-92.
Related:
* Remember the Vols crushing Michigan in the Citrus Bowl in '02?  Check out my epic "post" on the matter from back then.  Vintage.
* Great stuff from UM Hoops.   Post-game video, Five key plays, and more.