This week we'll go again to the absolute definitive tome on the Michigan-Notre Dame Rivarly, John Kryk's Natural Enemies. There are several anecdotes of interest in the book, some I've mentioned on these pages before, and I'll revisit some of these in the future. Today, a selection from Chapter 11 'Extra Points'.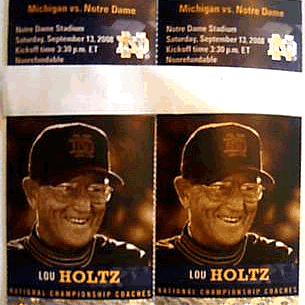 Lou Holtz will be honored at Saturday's game and they are unveiling a statue. I'm sure Jason Peter has some thoughts on how to decorate the Holtz likeness. I don't know if Lloyd Carr will ever be honored with a monument at Michigan but I'm sure he'll get his name on a facility or prominent street. An obscure street near Michigan stadium was the reward for Depression era coach Harry Kipke, who won national championships but was also fired at the end of the decade. But according to Natural Enemies, Lou Holtz wanted Carr to join him in South Bend on a couple occasions:
In an interview for this book in 2003, current Michigan head coach Lloyd Carr revealed that in the 1980s Lou Holtz twice tried to woo him to his staff at Notre Dame.

Carr said he believes that the first offer from Holtz came in 1986. "One night I was sitting at home and Lou called me. I was shocked, honestly," Carr recalled. "He said, 'I've got a secondary job here,' and, you know, Lou has been instrumental in placing a lot of his assistants as head coaches."

Then in his early 40s, Carr was getting itchy to become a head coach, and Holtz promised him that eventually he would become the next defensive coordinator at Notre Dame. And from there, Holtz said, "I promise you I'll get you a head job. You should be a head coach and I'll help you get a job." Carr was intrigued, but turned him down.

A year later Schembechler promoted Carr to defensive coordinator.

Two years later Holtz came a-calling again. It occurred during an eventful few days in December 1989. Carr had just interviewed for the vacant head coach job at Wisconsin, as did Notre Dame defensive coordinator Barry Alaverz. Alavarez got the job. Then Schembechler dropped a bombshell on his Michigan coaching staff.

"[Carr speaking] Bo called me in to tell me, 'I'm going to get out of coaching and I'm going to name Gary [Moeller] the head coach.' And I'll forget this because I was really flattered-he said, 'If it wasn't Mo, it would be you.' I mean, I was flattered by that.
A couple days later the book goes on, Carr got a call from George Kelly, the Irish linebackers coach. He called on behalf of Holtz and offered Alavarez's defensive coordinator job to Carr with a promise that he'd be strongly considered to replace Holtz once he hung them up. Carr didn't buy it:
'What a bunch of B.S." I said to myself, "Notre Dame is never going to hire an assistant coach." And yet that's what they eventually did! They hired Bob Davie, who was the defensive coordinator. It was an amazing thing.

So I went in to see Bo and I said, "Bo, Lou Holtz has offered me the defensive coordinator's job at Notre Dame." And he said, "I'll tell you right now, there's no way in hell you're taking that job. You're going to stay here."