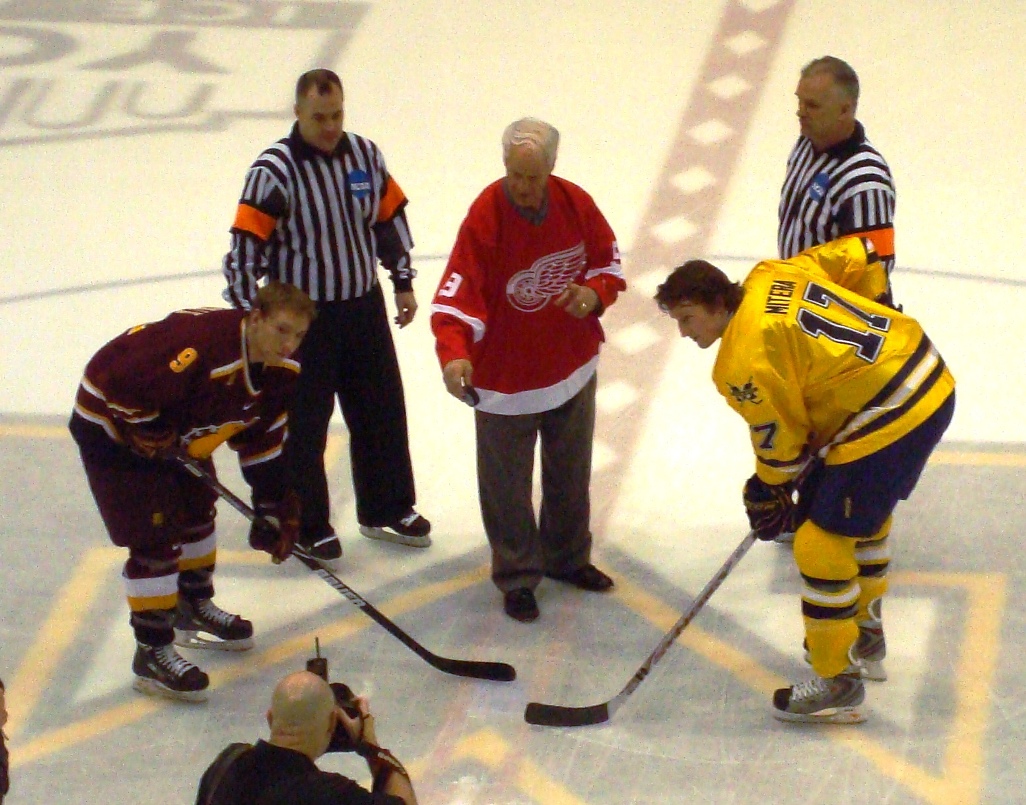 Gordie Howe and Mark Mitera
Another fine, at times scrappy, night up at old Yost as Michigan closed out the regular season by dominating Ferris State 4-0. The presence by Mr. Hockey would have any night a special one, but the fans were also treated to the home return of captain Mark Mitera (who tallied a nice goal) and well earned shut-out by senior Billy Sauer.
A few notes:
Seniors Travis Turnbull and Tim Miller were tossed out of the game for their involvement in a heated scuffle at the conclusion of the second period.   A double pisser for them as not only were they sent packing in their final regular season game at Yost, they couldn't literally hit the showers because they needed to skate out after the game as part of the Senior Day festivities.   In my mind's eye I picture the two of them making tape balls and snapping wristers around the lockerroom as they waited for the third period to expire.  Update: Here's a short video of the end of the incident.

Billy Sauer didn't see a lot of shots, but he had to make at least three very nice saves to preserve the shut-out, including a wide open breakaway (and rebound) for the Bulldogs.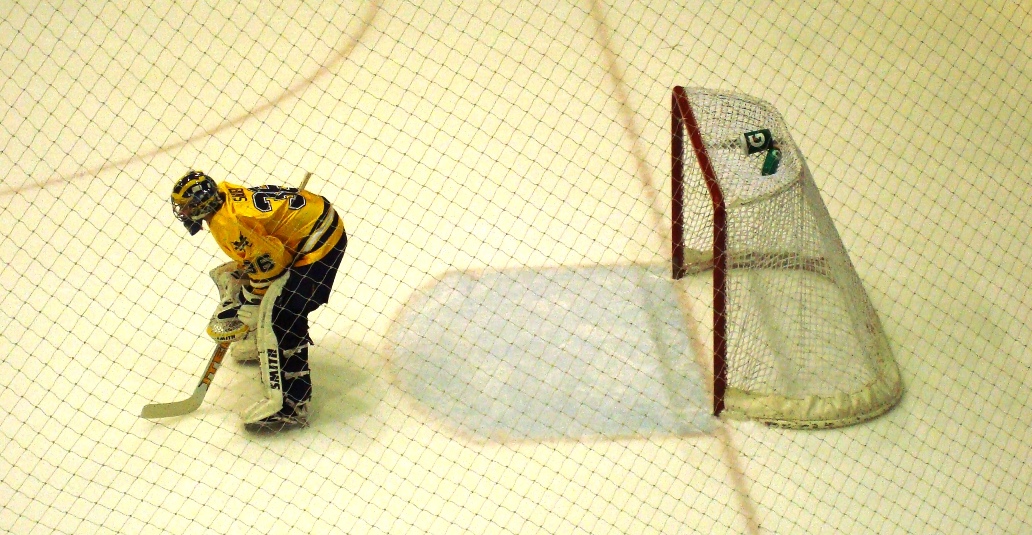 Before the season I sold a few of my games, including this one, to preemptively appease the old lady.  I decided this week I had to be up at this one to see Howe, Mitera and the Senior Night festivities .   Long story short, after about 20 minutes in the cold,  I ended up with a seat up in the luxurious premium seats for a song.   On my way in I noticed the chairs reserved for Gordie Howe a few feet away and sure enough, after he dropped the puck Mr. Hockey appeared:
And one more, with a longer view of Old Yost in the background: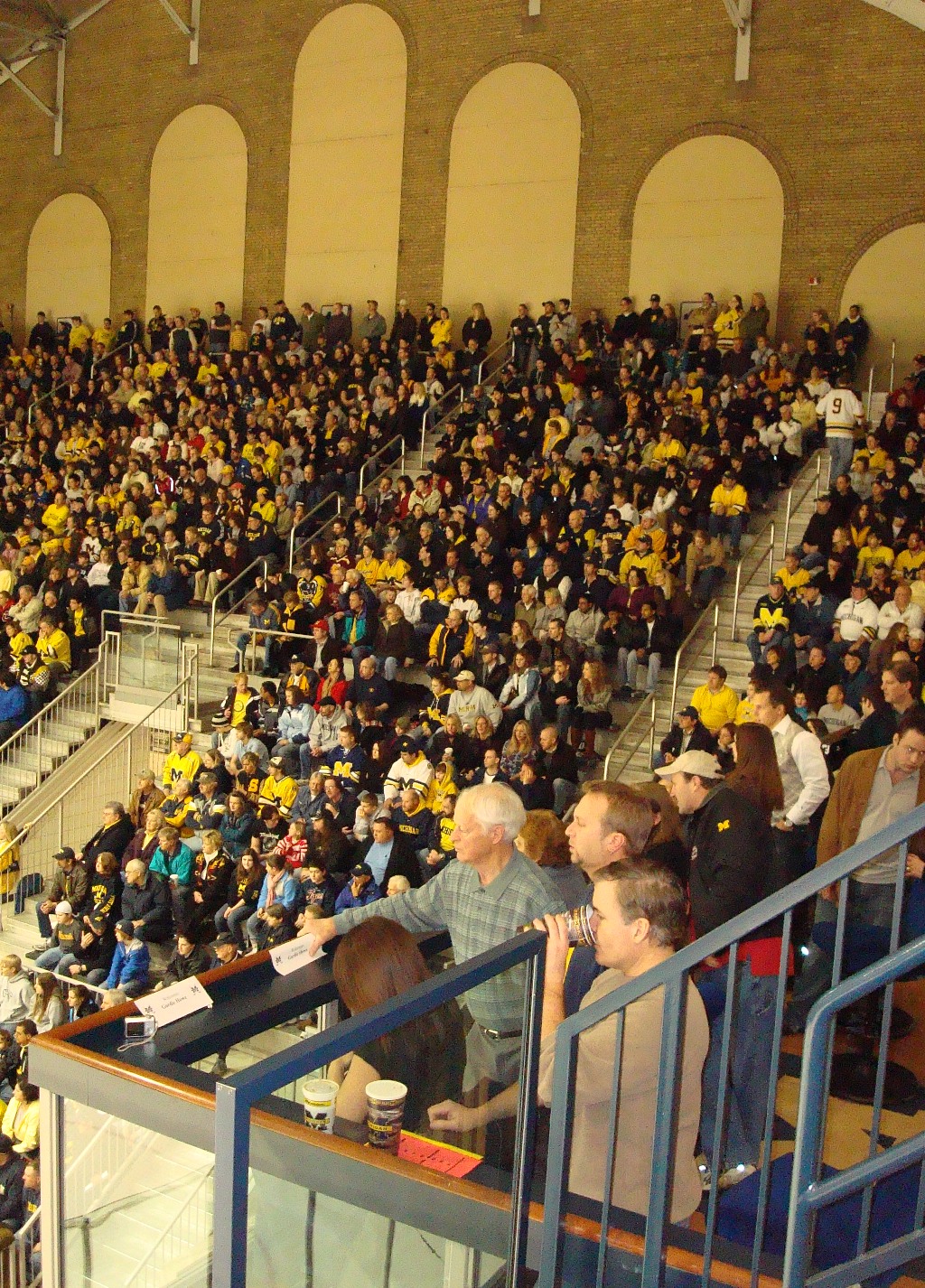 So it's a couple weeks off for Red Berenson and crew as they await their opponent in the second round of the CCHA playoffs (I kept those tickets).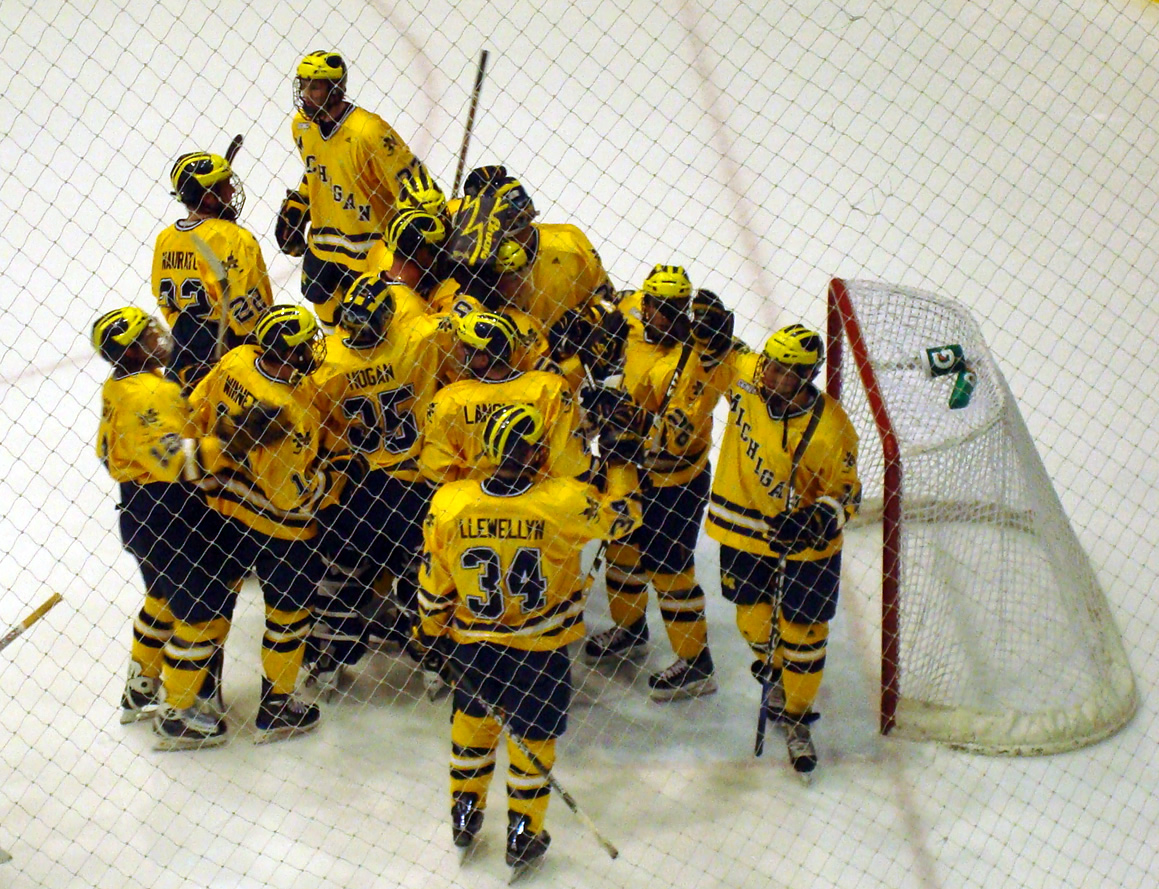 More Coverage:
Michigan will sit out the first round of the CCHA Playoffs, and will play the second-worst team (by points) remaining in the field. We cannot play Notre Dame, Miami, Alaska, Ohio State, Northern Michigan, or Bowling Green, which means our second round opponent will either be Western Michigan, LSSU, FYS, UNO, or Ferris. I would consider it very unlikely that we would face FYS in the second round (they'd have to beat Northern and BGSU would have to beat OSU). Likewise, I think it's unlikely we'll play LSSU (since either FYS or BGSU would have to win their series in addition to LSSU beating Western, which wouldn't be a huge shocker). So it'll more than likely be Ferris, UNO, or Western Michigan.