As Boston is in pure freakout mode over the sight of Tom Brady walking the streets with a Yankee hat, the media has been quick to find a reasonable explanation. The concensus? Blame Ann Arbor!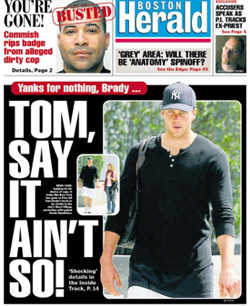 It turns out most folks are pointing to Brady's ties to Michigan buddy and former pinstriper 'Super' Drew Henson, and current Bronx Bomber Derek Jeter. I heard ESPN's Dan Patrick show mention the link to Henson yesterday on the air and this blurb was posted in the Boston Herald:

But avid Brady Bunchers know this isn't the first time No. 12 has committed the ultimate in homer heresy. We told you way back in 2003 that Tom was sporting a Pinstripes lid when our ever-vigilant spies spotted him fueling up at a Dunkin' Donuts in Foxboro. At the time, the excuse was that it was a gesture of solidarity with then-Yankees rookie Drew Henson, who, like Tom, is a former quarterback for the University of Michigan. Of course, that lame-o rationalization has gone by the boards now that Henson has ditched MLB for the NFL to play third-string quarterback for the Minnesota Vikings
If not Henson, then it must be Jeter, where the NY Post writes:
Maybe he's just friends with Derek Jeter, who frequents the sidelines of Brady's alma matter, the University of Michigan
Analysis: Who cares? My only concern is that we'll need to set a new end date for the Super Drew media circus/hype cycle to die. Just watch, somehow Henson will end up starting for the Vikings on a future Thanksgiving Day against recent Lions draftee Spartan Drew Stanton.