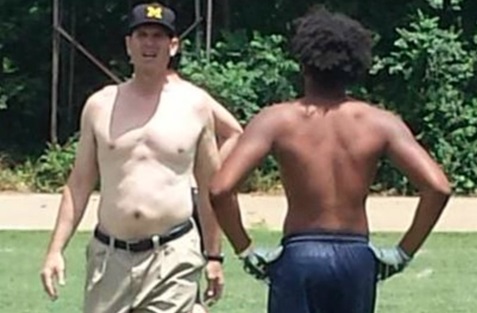 Ed. To demonstrate that Coach Harbaugh isn't the first head coach to peel and flash the washboard/guns, a repost from January 2014:
Just in time for the polar vortex of death, here's what the doctor ordered.  How about a look at a shirtless General Bo out for a run in the summer of 1976, as featured in the Sunday Magazine?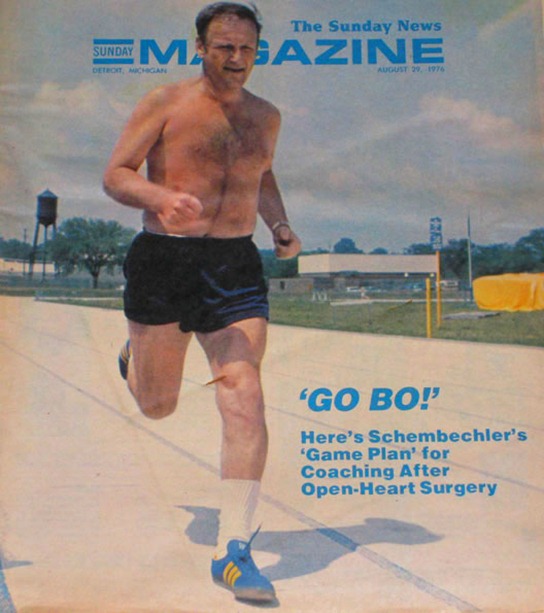 Thanks to the keen eye of Dr. Sap for spotting that on eBay, up for bid right now.   I assume this was a product of the Detroit News.
Bo's in tip-top shape after having open heart surgery in late spring of '76.   Here's Schembechler sitting down with Bob Ufer (also thanks to Sap) not long after that Magazine cover was released, just prior to the opener against Wisconsin.   Bo talks about his surgery, his level of fitness and a little bit about the 1976 season as his Wolverines were ranked #1 heading into the campaign:
Bo Schembechler Discusses surgery with Bob Ufer - 9/11/1976
Play Now
|
Play in Popup
|
Download
Go Bo!
P.S. I love Bo's shoes — not unlike my custom MVictors adidas?
Follow MVictors on Twitter