The first round of the 'Death March Madness' tournament (full bracket here – background here). Here's a printable version.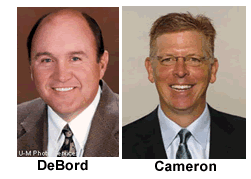 Mike DeBord (Offensive Coordinator, Michigan) v Cam Cameron (Miami Dolphins)
As 3 and 4 seeded players, each has an outside shot for the position.
Bill Martin will interview Mike DeBord for this position. If he gets hired Ann Arbor will burn. We can only imagine the complexities of his job but Coach DeBord is just not a popular figure amongst Wolverine fans. Per the mgoblog:
The one silver lining in this turd sandwich of a season is getting this guy the hell away from Michigan's football program.
Yikes. His status as Lloyd Carr's buddy is probably the biggest thing in his corner. He quit the CMU job and there are still many bitter fans in Mount Pleasant. He certainly qualifies as a 'Michigan Man' as a loyal assistant and he served Carr during the great year of 1997, when everything seemed to work just fine. We'll see what happens. I know there are a few DeBord people out there, I saw you come out during the original vote in September.
Cam Cameron has had a charmed career in athletics. Just look the folks he played under during his days at IU:
Before embarking on his coaching career, as a collegian Cameron played varsity football and basketball at Indiana. He earned two letters as a quarterback for Lee Corso (1982) and Sam Wyche (1983) and two (1981-82, 1982-83) playing basketball for Bob Knight before a football knee injury in his senior year ended his playing career.
Bo Schembechler hired Cam Cameron in 1984 and he served under Bo & Mo until 1993, when he took over as Quarterbacks coach for the Washington Redskins under Norv Turner. From 1997-2001 he returned to Bloomington and had mixed success at IU; obviously a tough place to get something going. He then moved onto the Chargers (again under Turner) as QB coach and earned a lot of respect around the NFL. Finally Cameron took over the Miami Dolphins after Nick Saban lied and left. Here's his profile from the Dolphins official site. His resume is impressive. The question on Cameron really comes down to a) would he even consider leaving the Dolphins after just taking over? (probably not), and b) even if he did, would Martin want someone with just a few years experience as a head coach?
So what do you think? The winner will take on #2 seed Bill Cowher, former coach of the Steelers. Vote now, and if you've got strong feelings either way, put it down in the comments:
MERCY! Sorry Coach DeBord, you're done. Cameron takes it in a landslide with 89% of the vote. Here's the current match-up:

{democracy}