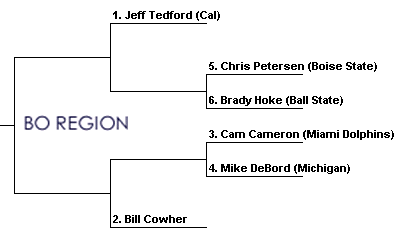 The first round of the 'Death March Madness' tournament (full bracket here – background here). Here's a printable version.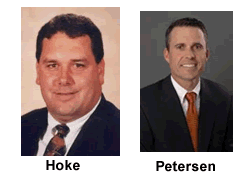 Brady Hoke (Ball State) v. Chris Petersen (Boise State)
Certain to be long shots for the position, each brings a little bit that puts him on the list of candidates.
Brady Hoke. Hoke served eight seasons as an assistant under LLoyd Carr including the national championship. He's had mixed success at Ball State and he's still very young. All told, Hoke's a major longshot for the Michigan head position. This said he is a Michigan Man via his coaching experience and, depending on the impression he made on Carr and Martin during his time in Ann Arbor, may get an interview for the gig.
From the Ball State official website:
Prior to being named Ball State's head coach, Hoke spent the previous eight seasons on the staff at Michigan under the guidance of Wolverine's head coach Lloyd Carr. Hoke spent the 2002 season as the associate head coach and defensive line coach. He helped the Wolverines to a 9-3 overall record in 2002 and a win over Florida in the Jan. 1, Outback Bowl. Michigan was ranked ninth in the final 2002 ESPN/USA Today and Associated Press polls.
Chris Petersen. Certain to be a hot choice of any college program looking for a new coach, the headman at Boise State led his squard to an undefeated season last year capped with one of the most exciting bowl wins in history when they defeated Bob Stoops and Oklahoma in the Fiesta Bowl. He has no Michigan ties. His roots go from Oregon to Pittsburgh to UC Davis where he played quarterback. From the BSU official website:
Petersen, moving into his second season at the helm of the Bronco program, led Boise State to an undefeated 13-0 season, including a 43-42 overtime win over Oklahoma in the Tostitos Fiesta Bowl last season. Petersen also became the first Boise State coach to earn national coach of the year honors winning the 2006 Paul "Bear" Bryant Coach of the Year award.
So what do you think? The winner will take on #1 seed Jeff Tedford of Cal. Vote now, and if you've got strong feelings either way, put it down in the comments.
UPDATE: We have a winner, by Knockout itls Petersen. He advances.
Here's the current poll:.

{democracy}