The second round of the 'Death March Madness' tournament (current bracket HERE – background here). Here's a printable version.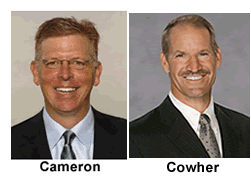 Bill Cowher (CBS analyst) vs. Cam Cameron (Miami Dolphins)
How they got here: Former Steelers head coach Bill Cowher received a bye in the first round as the #2 seed in the region while Cam Camerson absolutely crushed Mike DeBord in the first round.
Bill Cowher [bio from CBS] is of course the former Steelers headman who's last game was the victory in Super Bowl XL just up the road in Detroit. Many see Cowher as a great fit for the college game. He's emotional and seems to have a good rapport with his players (despite the allegations in Jerome Bettis's book). The question for NFL coaches always seems to come down to whether they'd be willing to do the other things that come with the job, that is, not just call plays and review film, but recruit, do charitable work, represent the community, turn boys into men. Cowher is one of those NFL coaches that seems to be worth a shot.
My question on Cowher is why would he take a college gig? Yes, NFL jobs are more work but couldn't he name his price if and when he decides to return to coaching? Who wouldn't shell out $6M for Cowher given his unreal coaching record? Michigan could pay him $3M tops. I'm guessing he's happy at CBS until the right opportunity comes up in the NFL. All this said, if there are a handful of college gigs that could entice a look from Cowher certainly Michigan is one of them. Will Martin call? Cowher has no college coaching experience.
Cam Cameron has had a charmed career in athletics which should earn some credibility with the players. Just look the folks he played under during his days at IU:
Before embarking on his coaching career, as a collegian Cameron played varsity football and basketball at Indiana. He earned two letters as a quarterback for Lee Corso (1982) and Sam Wyche (1983) and two (1981-82, 1982-83) playing basketball for Bob Knight before a football knee injury in his senior year ended his playing career.
Bo Schembechler hired Cam Cameron in 1984 and he served under Bo & Mo until 1993, when he took over as Quarterbacks coach for the Washington Redskins under Norv Turner. From 1997-2001 he returned to Bloomington and had mixed success at IU; obviously a tough place to get something going. He then moved onto the Chargers (again under Turner) as QB coach and earned a lot of respect around the NFL. Finally Cameron took over the Miami Dolphins after Nick Saban lied and left. Here's his profile from the Dolphins official site. His resume is impressive. The question on Cameron really comes down to a) would he even consider leaving the Dolphins after just taking over? (probably not), and b) even if he did, would Martin want someone with just a few years experience as a head coach? On the other hand, they are 11-0 after losing to Bill Cowher's former team on Monday!
Cowher wins with 80% of the votes. Here's the current match-up

{democracy}