The second round of the 'Death March Madness' tournament (current bracket HERE – background here). Here's a printable version.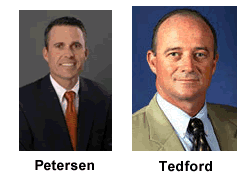 Jeff Tedford (California) vs. Chris Petersen (Boise State)
How they got here: Tedford received a bye in the first round as the top seed in the region, Chris Petersen smoked Ball State coach Brady Hoke in the first round.
Despite Cal's decline after a fast start this year, Tedford [bio from Cal's official site] is one of the hottest names in coaching. He's turned Cal into a title contender and attracted some solid talent. His pedigree is purely west-coach based, he was graduated at Fresno State and then served as QB coach at Oregon before settling at Cal. He's been vocal about his dissatification with the Cal facilities, so much so that he's got an out clause in his contract if certain factility upgrades don't happen. He'd have everything he could need in Ann Arbor of course, and he'd almost certainly take the job if offered.
Here's mgoblog's thoughts earlier this season:
What he's done at Pac-10 Indiana is staggering. He runs a pro-style offense that would fit Michigan's current talent well (and better than, say, Rich Rodriguez' spread option). He turned Joey Harrington into the third pick in the NFL draft. He's young enough to coach Michigan for 20 years but experienced enough (and in one place) to have built the sort of track record Michigan can be secure in. If he wants it, he should be the guy.
I'd say many of the anti-Miles camp would side with Tedford. He seems to be the guy with the most pure strategic coaching cred in the group. Martin went out and got the hoops coach with such a reputation in Beilein, would he go the same direction with the football hire?
Chris Petersen. Certain to be a hot choice of any college program looking for a new coach, the headman at Boise State led his squad to an undefeated season last year capped with one of the most exciting bowl wins in history when they defeated Bob Stoops and Oklahoma in the Fiesta Bowl. He has no Michigan ties. His roots go from Oregon to Pittsburgh to UC Davis where he played quarterback. From the BSU official website:
Petersen, moving into his second season at the helm of the Bronco program, led Boise State to an undefeated 13-0 season, including a 43-42 overtime win over Oklahoma in the Tostitos Fiesta Bowl last season. Petersen also became the first Boise State coach to earn national coach of the year honors winning the 2006 Paul "Bear" Bryant Coach of the Year award.
If hired, would he paint the Michigan field blue (and maize)? Har har har. Side note: If you want to piss this guy off, ask him about the Boise State blue field. He's so sick of answering questions about it.
Update: Tedford advances with 60% of the vote. Here's the current match-up:
{democracy}