[Ed. On today, the 30th anniversary of Bob Bergeron's epic game-winning kick over Iowa, here's my interview with the Wolverine legend from earlier this year. This appeared in full in the 2013 edition of mgoblog's Hail to the Victors.]
Deadlocked 13-13 with Iowa on the afternoon of October 22, 1983 and just twelve ticks remaining, Michigan sent a walk-on kicker on the field to win the game. At that moment the Homecoming crowd of nearly 105,000 certainly squirmed, knowing the recent woes of the Wolverine kicking game over the past several years—particularly in clutch situations.
Thankfully kicker Bob Bergeron was not thinking about history or even the significance of that moment. His mindset was focused on doing his job—something he'd done 1000s of times before. The rest is history. Bergeron nailed the kick sending the stadium and the sideline into a frenzy and Michigan went on to beat Iowa 16-13:
Whether it was that kick, or having a name that rolls off your tongue, or his overall success at Michigan, Bob Bergeron has reserved a spot Michigan football's Valhalla. Back then his fame extended beyond the U-M family, especially after Sports Illustrated came to campus in 1984 to photograph him as part of its college football preview edition. The result was one of the most classic shots you'll see—the diminutive Bergeron in a hot tub with a pizza.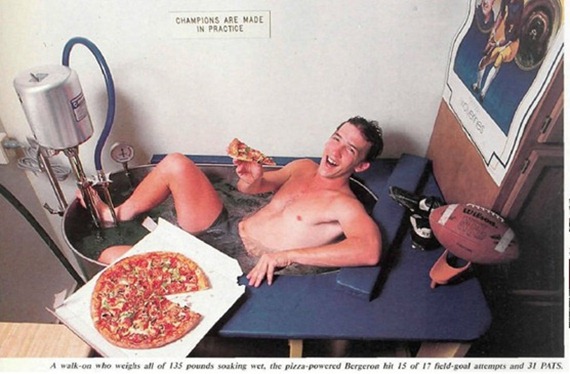 These days Bergeron lives in Ft. Wayne with his wife & two kids and is a coach on the Snider High School football squad. According to Bergeron his passions include his family, his football team and his dogs. He's got a pair of golden retrievers who double as therapy dogs, bringing comfort to those in the hospitals and nursing homes around Fort Wayne.
As we approach the 30th anniversary of his famous kick against Iowa, the U-M legend agreed to endure answer an endless string of questions about that classic SI photo. He also shared a few thoughts about Bo, how he wound up at Michigan, that famous '83 kick and much more.
MVictors: For openers we have to start with that great photo in the 1984 college football preview issue. How did that come to be?

Bergeron: So this was the preview photo for the season after I made the game-winning kick against Iowa. After the '83 Iowa game I was in the interview room and one of the reporters found out that I was not on scholarship at the time. Somebody made the comment 'Well Bo, at least give the guy a pizza,' because at the time Bo was a part owner at Domino's Pizza. In addition at one point when they were talking to Bo and someone made a comment about how small I was, noting the program listed me at 135 pounds. Bo made the comment, 'He might weight 135 pounds soaking wet.' So Sports Illustrated put those two things together to come up with the idea for the photo for the preview.
MVictors: Do you remember when they took it?
Bergeron: It was during the summer some time, during summer workouts.
MVictors: Do you remember what kind of pizza it was?
Bergeron: Well it was definitely a Domino's Pizza, and I believe it was a supreme.
MVictors: Did you actually get to eat the pizza?
Bergeron: I did! [laughs]. I took it home and shared it with my roommates [punter] Don Bracken and [kicker] Mike Melnyk.
MVictors: In the photo there's a sign above the tub that reads 'CHAMPIONS ARE MADE IN PRACTICE'–it looks like something the coaching staff had made…
Bergeron: Well here's the funny thing. This photo was not shot in the football locker room [laughs]. It's the basketball locker room. The photographer from Sports Illustrated wanted to use the basketball locker room because their showerheads were really tall, and he had the idea to make me look extra small by having me underneath one of those high showerheads. But that didn't turn out they way he wanted it to go.."
MVictors: Plus you'd be taking a shower wearing shorts
Bergeron: Yeah. I was just wearing a pair of workout shorts. But anyway, that's when he decided to fill up the hot tub and instead of heading back to the football locker room, we just did it there. We brought over the shoes, the pizza, a ball and a tee and we put up a football poster.
MVictors: Oh yes, I see that Ricky Leach poster behind you. Are those your cleats in the photo?
Bergeron: Those are mine, yep. I'm not sure if they are the actual ones I wore in the Iowa game. Nike was good to us back then. The Nike rep would give us shoes to try out and we would tell him if we liked them or not.
MVictors: So Bo made the comments that drove the photo concept, but did he have to give Sports Illustrated clearance to run this? It's kind of a silly photo after all, and Bo was a pretty serious guy.
Bergeron: If they did [have to get clearance from Bo] I wasn't a part of it. All I know is that the guy spent about an hour and a half taking hundreds of pictures and I had no idea which one would end up in the book.
MVictors: Other than the shower photo what else did they have you do?
Bergeron: They actually took a few shots of me kicking. And then the shower, finally the tub. I think those were the only pictures they took. And once he took the shots in the hot tub I think he liked that, and he said, "That's enough".
MVictors: What was the reaction from your teammates when this issue of Sports Illustrated came out?
Bergeron: "There wasn't really a lot of reaction from my teammates. I mean they all got a kick out of it, but I'd like to think that I had the respect of my teammates because I worked hard at what I did, but at the same time, I never claimed to be a real football player [laughs]. So no one really gave me a hard time. I think part of it is how I handled things. I knew my role on the team and I didn't try to overstep those bounds. Because I wasn't getting my head beaten in every day. But through my hard work at my skill, I think I earned the respect of my teammates—along with the fact that I got my job done most of the time. Kickers, to this day, still get a really bad rap and I think that's because they draw attention to themselves in a non-flattering manner.
MVictors: So of course you had the famous kick in 1983. How often to people bring that up to you? Is it throughout the year, or just during football season?
Bergeron: Living in Fort Wayne it certainly isn't as big of deal for the folks who live in Michigan. But when my name is brought amongst Michigan people I'm definitely recognized and a lot of it is because of that kick. The reason for that is prior to the kick that I made against Iowa in 1983, Michigan had not been successful in last-second kicks in its history. So fortunately for me I was one of the first to make a game winning kick for a Michigan football team. We had a lot of troubles with special teams over the years, especially and most recently in 1979, and I think that was still fresh on peoples' minds. Making a game winning kick was a big relief to a U-M faithful.
MVictors: Do you remember anything special before the kick—maybe something the coaches said or did to get you ready?
Bergeron: Well here's the truth. You have to forget about the moment if you are a placekicker. You have to have the mindset that, 'I've done this thousands of times and this is just another kick.' If you get caught up in the moment that's when you tend to miss. So my focus was on nothing but that kick, and the fact that we would receive the snap from Larry Sweeney, and Dan Decker was the holder and he would grab the snap and put the ball on the tee, and all I had to do is do what I've done thousands and thousands of times prior to that.
It's kind of sad in the fact that you don't get to revel in the moment as the fans do…but yet, years later it is still a big deal. That's where it becomes a big thing—years later. I mean that night it was fun but right after that you've got another game. On Sunday we're working on the next game.
MVictors: 1984 was a tough one for Michigan football in general, but personally you had a very successful year kicking the ball.
Bergeron: "I was fortunate that I had a couple good years kicking the ball. I didn't even begin the 1983 season as the starting kicker. Todd Schlopy was the starter going into the year but unfortunately he had a couple bad games. Alex Agase inserted me into the Wisconsin game and I made a couple kicks and never lost my job after that. In fact the only record I think I still hold at Michigan is the field goal accuracy record* [Correct: Bergeron still holds the career FG accuracy records, minimum 15 attempts. He was made 29 of 35 kicks over his career, or 82.9%. Brendon Gibbons is currently tied for 6th all-time at 75% FWIW.]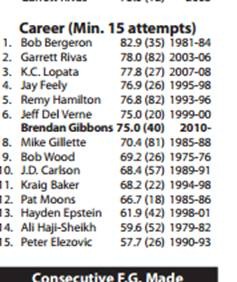 MVictors: Do you still have your Michigan helmet or any memorabilia from your playing days?
Bergeron: I still have the game ball from a 1983 Iowa game. It was given to me by Jon Falk, the equipment manager. He gave it to me the next day when we had our meetings.
MVictors: Do you check back in with guys like Falk when you return to campus?
Bergeron: Yes I do. I don't get back as much as I wish I could because I coach football as well here, but I go back at least once a year for a Spring practice, and then I also work the Michigan football high school camp and that's something I've done for the past 25 years. That's my chance to see old friends, in particular Frank and Judy Colligan—they were so good to me when I was a student athlete and I always stop by to see them when I'm back in town.
MVictors: So how did you end up at Michigan?
Bergeron: When I was in high school I was a decent kicker but I didn't have a lot of numbers. I wanted to play football in college because I thought I was pretty good. The truth of the matter is that no one else in Division I was even interested in letting me walk on. Indiana told me no. Notre Dame I couldn't afford, so of all the schools that were close to me, the only one that told me I could walk on was Michigan. I had a next door neighbor who was a student trainer at Michigan and he got me introduced to the program, and that was that year after they had poor special teams year so they were willing to take on walk-ons. My choice came down Michigan and Wabash College [laughs]. And Wabash, at the time, was coached by Stan Parrish. I decided just to go for it and go to Michigan and see what I could do.
MVictors: Any special memories of Bo?
Bergeron: Ha! [laughs]. Some that we can't print, yes. The one comment that I make to people who don't know Bo is that he was really two different people. He was the coach that you see ranting and raving on the sideline, and he was also a good friend to everybody in his office. He was a totally different person when you went into his office and talked to him. He was a good guy, a normal everyday guy, he was easy to talk to, he was always there for you when you needed him, and his office was always open. There's that side of Bo that most people didn't get to know. The Bo that most people think they know is the guy on screaming on the sidelines and getting in people's faces and that was a side of Bo. He was very competitive and he held you accountable and he made sure you performed up to your ability.
MVictors: Do you take a lot of what Bo represented and did in how you approach coaching?
Bergeron: Oh absolutely. There is a lot of the Michigan football program in what we do at Snider. Our head coach Kurt Tippmann very much welcomes the insight that I have and they also go up to Ann Arbor with me during spring ball. So yes, there is definitely a Michigan influence. When Brady was head coach at Ball State he used to hold traveling camps and one the host sites was here at Snider. So the guys at Snider got to know Brady really well and have a lot of respect for how he coaches and how he runs his program.
MVictors: I'm sure you've watched Brendan Gibbons kick the ball, and he's had a lot of success after struggling early in his career. I'm sure you watched his game-winning kick in the Sugar Bowl with a certain amount of satisfaction?
Bergeron: Yep, oh that was awesome! The snap wasn't great but the holder did a good job of fielding the snap and getting the ball down, and that is often when kickers make excuses if they don't make the kick. He did a great job of having confidence that the holder would get the ball down and making the kick like he had done thousands of times.
MVictors: Did that give you any flashbacks to your 1983 Iowa kick?
Bergeron: Well every time I watch a Michigan football game there are definitely thoughts to back when I played. The Sugar Bowl kick definitely brought that back, and a lot of people brought that up to me saying, 'Oh hey, he did the same thing you did.' It definitely brought back great memories.
Follow MVictors on Twitter