This edition of #TWIMFbH first goes back to a dark day in recent lore, the 1973 Big Ten AD vote that sent the Buckeyes, not your beloved Meechigan men to the Rose Bowl.  But then we shoot back to 1950 to one of the wildest games in college football history – to be forever known as The Snow Bowl.  Go Blue!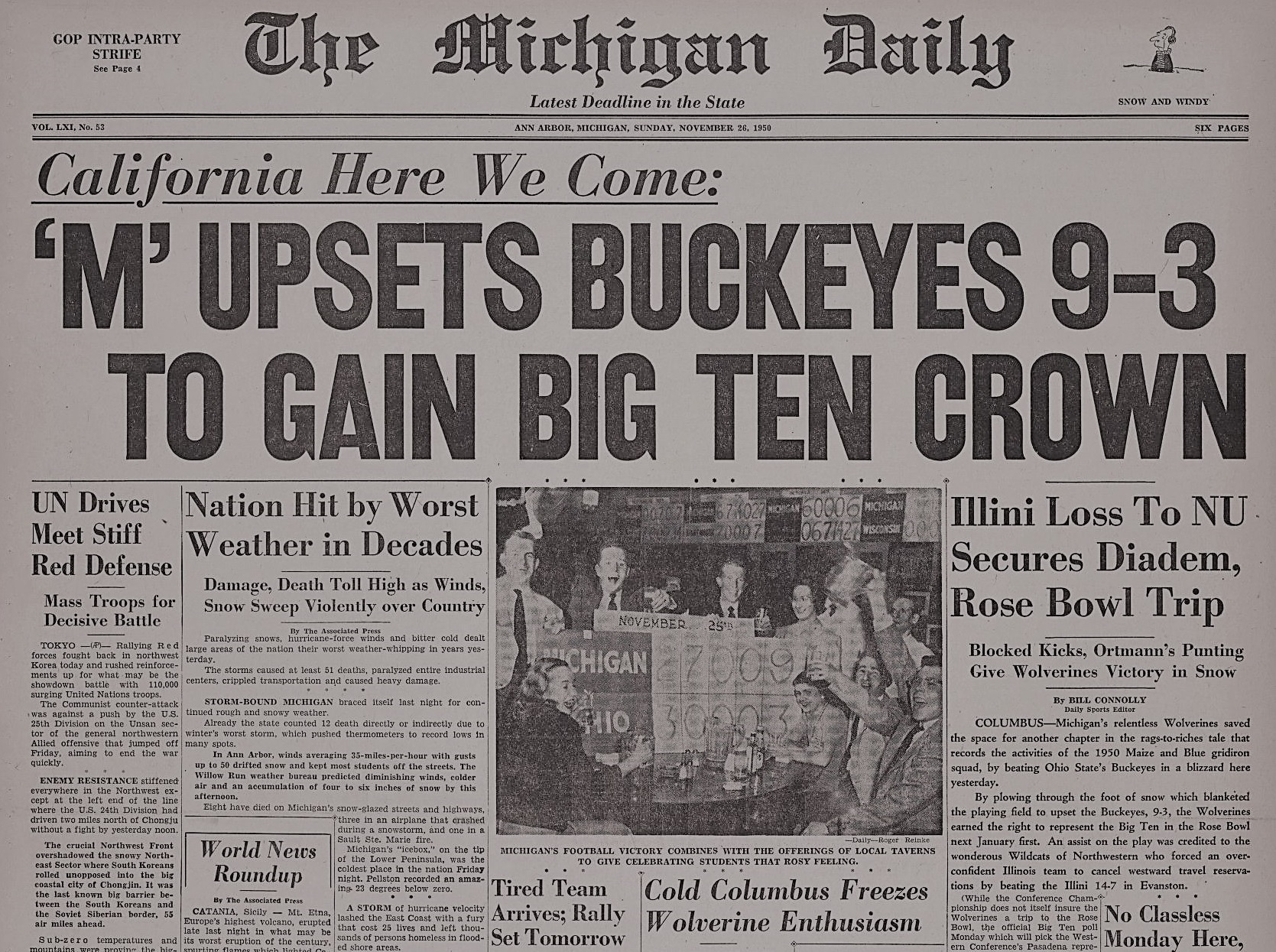 Here's the clip:
TWIMFbH is sponsored by 
Hillside Terrace of Ann Arbor
.  This segment can be heard on the Keybank Countdown to Kickoff and you can listen live on 1050AM in Ann Arbor & on 
wtka.com
 around the world.  This segment plays approximately 2 hours before kickoff each week – specifically around 10am Saturday morning before THE GAME.
You can hear the archive of This Week in Michigan Football History clips here.    If you have suggestions for future games hit me on Twitter @MVictors.  Go Blue!
/script …after the jump
Here we are again on the brink of The Game – the greatest rivalry in sports.  November 25th is a special day in the history of this great rivalry.  First off, it was on this day in 1961 that Jack and Jackie Harbaugh were married so go blue and happy anniversary to the Harbaughs.
November 25th also marks a dubious day in Meeechingan lore, as it was on this day in 1973 that the Big Ten athletic directors gathered to break a conference deadlock between Michigan and Ohio State following the famous 10-10 tie the day before.  Most watching the 1973 game thought Bo's men were the better team on that day.  But after an injury to quarterback Dennis Franklin and after some alleged nudging from Big Ten Commission Wayne Duke, the ADs voted 6-4 on this day 44 years ago to send Ohio to the Rose Bowl.
But Ufer, Elephants and Dooley never forget – I'm talking to you Bert Smith and especially you, Crazy Legs Hirsch.
It was also on this day back in 1950 that we faced the Buckeyes in a game forever known as "The Snow Bowl", a game of major significance for many reasons.  First off there was that storm.  On Thanksgiving day before the game, the Columbus weather was a fairly normal 38 degrees with rain.  But then God intervened on Friday, as an arctic blast swooped down and dropped the temperature to 5 degrees.  Meanwhile a moisture-filled front shot up from the Carolina coast that collided with the Arctic air and by Saturday, the midwest was blanketed with up to 2 feet of snow blown around by gale-forced winds.
As the game approached, 50,000 brave fans huddled beneath the Ohio Stadium stands and waited to take their seats.  Meanwhile meeting was held between the schools to decide whether to even play the game.  Ohio coach Wes Felser and Michigan AD Fritz Crisler and coach Bennie Oosterbaan talked it out.   If the game wasn't played, The Buckeyes, who were atop the Big Ten standings would earn a trip to the Rose Bowl.  But Crisler knew that third place Michigan could still end up in Pasadena with a win over the Bucks and some help.
So they agreed to play the game – and what a game it was.  The basic strategy was to punt – even on 1st down – and to just hope the punter caught the ball and got it away.  And punt they did – all told 45 times between the two schools.  The pivotal moment was when Buckeye coach Wes Fesler called a punt on 3rd down in the waning moments of the first half.  The Wolverines blocked it and recovered the frozen pigskin in the snow-covered end zone for the only TD of the game.  Meeechigan ended up winning 9-3 without completing a single pass or get this – without earning a single first down.  When Northwestern upset 2nd place Illinois that same day, suddenly Michigan was conference champ and packed their bags for California.
Like fans tend to do (not Michigan fans – I mean other fans) the Buckeye faithful unloaded on coach Fesler for his game strategy, and 2 weeks later he resigned.  His replacement?  None other than Mr. Wayne Woodrow "Woody" Hayes.   Hayes's hiring changed the course of not only Buckeye football forever, but Michigan as well , as it was Woody's protege' who eventually arrived in Ann Arbor in 1969 – that of course being Mr. Glenn E. "Bo" Schembechler.
Go Blue – Beat the Buckeyes – and for more, check out WTKA.com and MVictors.com