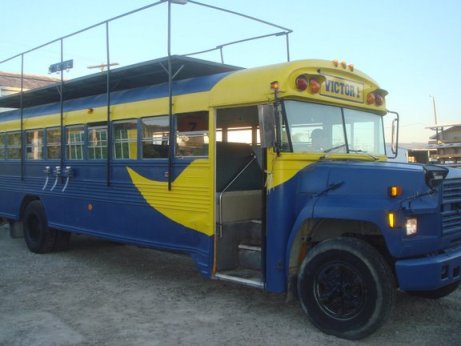 The movie Evan Almighty hit HBO recently which features Steve Carell portraying a modern day Noah commanded by God to build an ark in preparation for a September flood.
Last week's Ann Arbor News had a great photo of some U-M students preparing their tailgating bus "VICTOR1" for another potential disaster in the upcoming fall: the 2008 football season. The pic showed a couple of the current business school students upgrading the party deck atop this beauty. While it's certainly not an ark, this sled provides a form of sweet salvation for many M fans. According to the News, outgoing seniors sell their shares representing slots on the bus to incoming freshman.
Mucho respect for anyone making tailgating preparations in May so I emailed the guys listed in the News piece. I got a reply from business school student Matt Larkin who sent along the pics of the bus and some more info:
The BUS is the unofficial Business School tailgate. It was started in 2002 by a couple of business students who felt that the school didn't have a good, organized tailgate. The BUS has 50 owner-members, with a split of around 35 MBA2s and 15 MBA1s.

The BUS is set up for each home game at Fingerle Lumber Yard, at Hill and Fifth, opening around 9am and going until we get closed down. It also makes the trip for some of the closer away games (Notre Dame, Northwestern, etc.).

The crowd is dominated by business school students, but any Michigan fans (over 21, of course) are welcome to come hang out. Go Blue!
Thanks man, great stuff. Here's a couple more photos: