This tweet from Jim Brandstatter's iPhone caused a bit of a ruckus:
When is lying to your boss, to the NCAA heroic. Is it heroic to teach young men that wrong isn't wrong unless you get caught? Gimme a break
He was of course reacting to Mark Dantonio's statement at the Big Ten media days when he referred to his old pal Jim Tressel as a tragic hero.  Matt "BIG SEXY" Charboneau breaks it down here.  
I get Dantonio defending his little sweatervested buddy and of course I understand Brandstatter thumbing out his 140 character disapproval of those comments.  Whatever.  
In reacting to the twitter bomb, Dantonio claimed he didn't know who Brandstatter was.  I'm guessing he does but if he doesn't, he should.  Not because of Brandy's longtime broadcasting career with the Lions and the Wolverines, but rather due to his deep family ties to East Lansing and the Spartan football program that date back to the 1930s.   Jim was born in EL and his father Art, Sr., and brother Art, Jr., each suited up for the Spartans.  More recently Jim's nephew and Art Jr.'s son Brody skated for the Spartan hockey squad.
Art, Sr. had quite a career for the Spartans in the 1930s, earning All-American honors in 1936.  The elder Brandy is enshrined in MSU's Hall of Fame and received consideration from ESPN's Adam Rittenberg to be placed on the MSU football "Mount Rushmore". 
Art, Sr. was a fullback on the group apparently known as "The Mighty Mites".  (I say apparently because I don't see reference to that name in the archived papers from that period, but I'll look harder). 
Here are the Mites in formation in 1935 from The Tradition Continues, a very nice book on Spartan history given to me last season by Hondo Carpenter of Spartan Nation: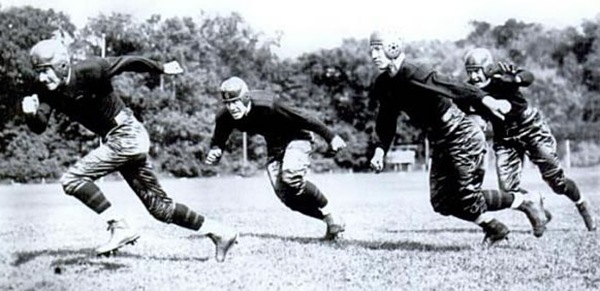 That's Art second from the left.

If you look closely, you might notice that the charging Spartans are donning what appears to be a winged helmet with a block S on the front.  
And yes, you can do the math—Fritz Crisler wasn't in Ann Arbor yet in 1935 and his winged helmet was still with him at Princeton.  
This site has a breakdown of the early days of the winged helmet design, citing early examples in Ohio, Indiana and yes, East Lansing, before Crisler made it famous in Ann Arbor.  [Ed. Note that reader guanxi isn't sold on the sources for this site.]
Related:  Speaking of Coach Dantonio, I will see him next Saturday at the East Lansing JDRF Walk on the MSU Campus.  Will you be there?   Do you want to help and get your name on the MVictors jug?!  Do it, do it now.  (A huge thanks to everyone who's already donated, spread the word or both!)
Follow MVictors on Twitter