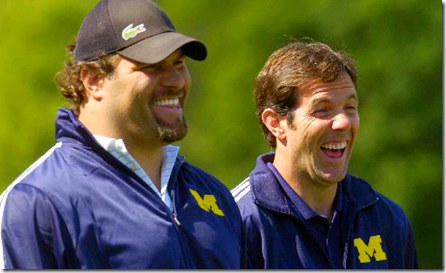 Hutch: "How come you couldn't get your boy Marinelli out here?  Is he busy with the Lions?".  Griese: "Buurrnn!"  Photo: MLive
National champion quarterback Brian Griese dialed into WTKA this morning to promote The 3rd annual Brian Griese/Steve Hutchinson Champions for Children's Hearts Celebrity Golf Tournament which will be held this year on May 16-17.  The event is sold out this year, but Griese mentioned you can call for a slot next year if interested by dialing 734-998-7702.  Details here on this year's event, which has raised around $750,000 for the hospital over the last 2 years.
Griese discussed the event of, the impact of the players' trips to Mott Hospital and the various athletes and coaches (Rodriguez, Carr, Moeller, Hanlon..) that will be attending this year.
He also reflected briefly on last season's woes, "It was such a transition, not just from the coaching staff…it was very difficult for them to be successful."
On the outlook for Rodriguez's bunch, Griese called on the old Parcells adage in support of Rodriguez, "If you want me to cook dinner, you have to let me get some of the groceries.  Hopefully coach Rodriguez has the opportunity to get some more groceries…"
When asked about the outlook for Matt Stafford and the Detroit Lions, Griese suggested that the new quarterback will need to be patient and "it will take him some time".  He then offered he's "a big Rod Marinelli fan", who of course was fired last year after winning nary a game, drawing a chuckle from a few folks in the radio audience.   Griese's friends may commence with 'the breaketh of the balls' over that one.
On his on own career, Griese mentioned it was his 12th year in the league, and he's taking it year by year.  He joked, "I might be playing in more of these golf tournaments than I want to."   And had a good line, "..in this business I'm old, but once I retire I become young again."
Here's the full audio:
Brian Griese on WTKA 04-08-09
Play Now
|
Play in Popup
|
Download
Related: If you want to see the real coach of the Detroit Lions, don't miss the 2009 Fore The Kids golf outing on June 22 benefiting JDRF!